Home
PRALJAK'S GOODBYE TO HERCEG BOSNA
The prosecutor concluded his arguments about Praljak's responsibility by recalling Praljak's exit from the stage, from the post of commander of the HVO Main Staff on 9 November 1993. According to the prosecutor, General Milivoj Petkovic was also 'loyal and committed' to the joint criminal enterprise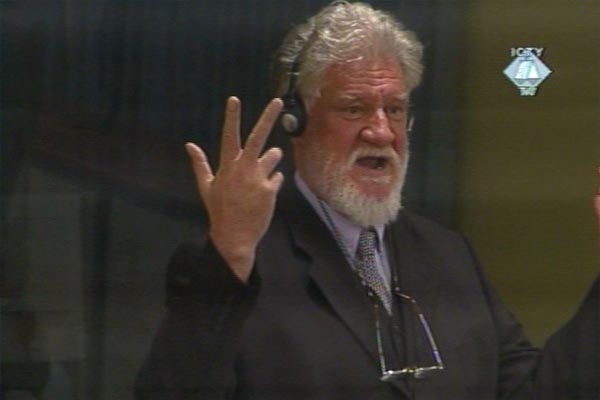 Slobodan Praljak in the courtroom
As the closing argument at the trial of the former Bosnian Croat leader, the prosecutor focused on the involvement of two former commanders of the HVO Main Staff, Slobodan Praljak and Milivoj Petkovic, in the joint criminal enterprise. Crimes against civilians in 1993 and 1994 in Central Bosnia and Western Herzegovina were a part of it.
Prosecutor Douglas Stringer referred to Praljak's responsibility for the ethnic cleansing of Muslims from Stolac, Capljina, Ljubuski and Prozor, the detention and cruel treatment of prisoners in HVO prisons and prison camps and their use as forced labor on the front lines. According to the prosecution, the evidence shows that Praljak not only knew of those crimes but also abetted them and accepted them as a means to establishing an autonomous entity in BH under the Croat control.
The prosecutor concluded the arguments about Praljak's responsibility by recalling Praljak's departure from the post of the commander of the HVO Main Staff on 9 November 1993. 'As a man of theater who likes drama, he exited the stage in the best possible way: by training the tank barrels at the Old Bridge and pounding it into the River Neretva on the day he left Herceg Bosna'.
Prosecutor Kimberly West went on to describe the role of Milivoj Petkovic, Praljak's predecessor at the post of the commander of the HVO Main Staff. Petkovic's presence at various meetings with Franjo Tudjman and sessions of the Herceg Bosna government where the goals of the joint criminal enterprise were discussed shows that Petkovic was not only a military but also a political leader in Herceg Bosna, according to the prosecution.
The prosecutor spoke about the claims made by Petkovic's defense that he didn't play a particularly important part in the Herceg Bosna armed forces, but was merely a sort of Mate Boban's assistant, or his 'puppet'. The prosecutor noted that Petkovic himself said in his evidence at the trial of Tihomir Blaskic and Dario Kordic that he had power over his commanders. Even if Petkovic had been nothing but Boban's assistant, he cannot avoid responsibility for what soldiers under his command did, the prosecutor argued.
As a former JNA officer, Petkovic knew that the order to arrest all Muslims of military age on 30 June 1993 was illegal but didn't refuse to obey it, the prosecutor said. As the prosecution alleges, this shows that Petkovic was 'loyal and committed' to the joint criminal enterprise and that he knew that the arrests and expulsions were a means of its implementation.
The prosecutor then spoke of Petkovic's responsibility for the conflict that broke out in Mostar, for the expulsions and the terror campaign against civilians, indiscriminate shelling and not allowing humanitarian aid in.
The prosecution is expected to conclude its closing arguments tomorrow.