Home
KARADZIC: IT'S ALL A LIE
Radovan Karadzic claimed in his cross-examination of Bogdan Vidovic that 'everything was falsified' in the reports the Sarajevo investigation teams filed after their crime scene investigations of sniper and artillery incidents in Sarajevo. Another crime technician from Sarajevo began his evidence today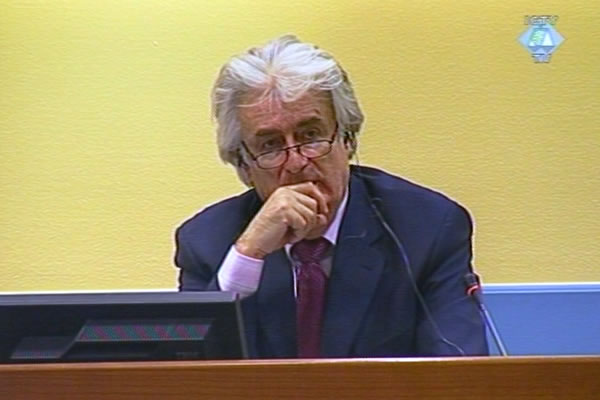 Radovan Karadzic in the courtroom
In the cross-examination of crime technician Bogdan Vidovic, Radovan Karadzic tried to contest the findings of the investigations into sniper and artillery incidents. Karadzic argued that everything – 'from angles to points of the compass' – was falsified in the Sarajevo police reports.
Only one of incidents listed in the indictment was mentioned today: the wounding of Jasmina Kucinar and her four-year old son Damir and two other passengers in a tram on 19 June 1994. The tram was moving in front of the Holiday Inn hotel when it was hit.
Karadzic tried to get the witness to confirm that the investigation team failed to establish 'beyond reasonable doubt' where the fatal shots were fired from and who opened fire on the tram. Vidovic confirmed what the previous witnesses involved in sniper incident investigations had stated – that the direction from which the shots had been fired was indeed established. In that particular case, as the witness showed on the Sarajevo map, the investigators concluded that the fatal bullets had been fired from the Serb-controlled territory.
Karadzic asked Vidovic about other incidents not listed in the indictment, but which are there to show 'a pattern of conduct' by the Serb side.
In his effort to show that the Sarajevo investigation teams 'played with angles and points on the compass' Karadzic contended that a bullet entering a tram through the fifth window couldn't hit a person seated in the third row. Karadzic corroborated this claim with a photo of the interior of the tram taken – as Judge Kwon noted – in Holland.
Karadzic went on to suggest that when the Sarajevo police investigation team investigated the incident in the ironworks in Ilijas in March 1996, they took photos of barrels with explosives, but the explosives do not show on the photos, According to Karadzic, this shows that the case files produced by the local investigation teams were 'insufficient'.
Vidovic testified under his own name, but with image distortion as a protective measure. After he completed his evidence, the prosecution called another crime technician from Sarajevo to the witness stand. He testifies under a pseudonym and with image distortion. In the investigations of sniper and artillery incidents, the witness took photos of the crime scene, made sketches and collected shell fragments and other physical evidence.
The witness testifying under the pseudonym KDZ-166 continues his evidence on Tuesday, 26 October 2010.