Home
TERROR AND HORROR IN SARAJEVO
Canadian general David Fraser, military assistant to the UNPROFOR commander in Sector Sarajevo from April 1994 to May 1995, testifies at the trial of Radovan Karadzic about the 'horror and terror' the VRS forces inflicted on the civilians in the city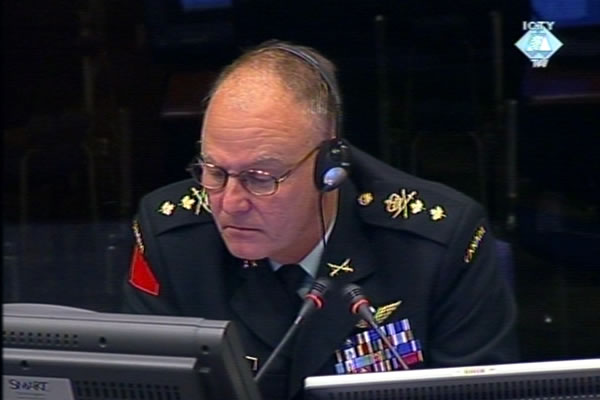 David Fraser, witness at the Radovan Karadzic trial
The trial of former Republika Srpska president Radovan Karadzic continued with the evidence of Canadian general David Fraser. From April 1994 to May 1995, Fraser served as military assistant to the UN commander in Sector Sarajevo. In the examination-in chief, the witness's written statement based on his previous evidence at the trials of VRS generals Stanislav Galic and Dragomir Milosevic was admitted into evidence.
Replying to prosecutor Tieger, General Fraser said that the feeling of 'horror and terror' among the inhabitants of Sarajevo was caused by the siege of the city, by the fact that the humanitarian aid was under Serb control and the daily targeting of the residents by artillery and sniper fire: they never knew what might happen to them the moment they stepped out into the street. 'I remember a man – this is something I will never forget – who told me that life was a lot easier in the 1940s, during the German regime', the witness said.
The introduction of modified air bombs in the VRS arsenal contributed significantly to the 'horror and terror'. The witness described as 'particularly illegal' General Milosevic's order of 6 April 1995 to launch such a bomb and select 'the most profitable targets to cause as much damage to property and human casualties as possible'. 'If I received this order – I would not obey it', the witness said. 'Honestly speaking, I'm disgusted', the witness said when the prosecutor brought up a similar order to use the bombs against the UN.
At the beginning of the cross-examination, Karadzic tried to show that the VRS siege of Sarajevo was 'legitimate' because the BH Army soldiers were stationed all over the city. Karadzic went on to claim that many BH Army soldiers were 'identical to civilians' because they didn't wear uniforms. The witness responded that in those cases, fire should not be opened unless the soldiers 'identical to civilians' posed a military threat.
Karadzic again tried to prove that Serbs had reason for greater caution and to step up their checks of humanitarian convoys becauselower-ranking UN staff smuggled arms, ammunition and equipment to the 'Muslim army'. Noting that the 'Serbs had the right' to set 'technical conditions' for letting the humanitarian convoys through, Karadzic said that in the 19th century, Serbs 'set the standard for allowing the humanitarian aid to pass through': they would cease fighting in order to let aid reach the Bulgarian army. The judges said Karadzic's argument was 'irrelevant'.
The Canadian general continues his evidence tomorrow.