Home
KARADZIC: WHY WERE WE BOMBED?
In the cross-examination of Canadian general David Fraser, former Republika Srpska president claimed that the BH Army and the NATO are responsible for the 'hostage crisis' in 1995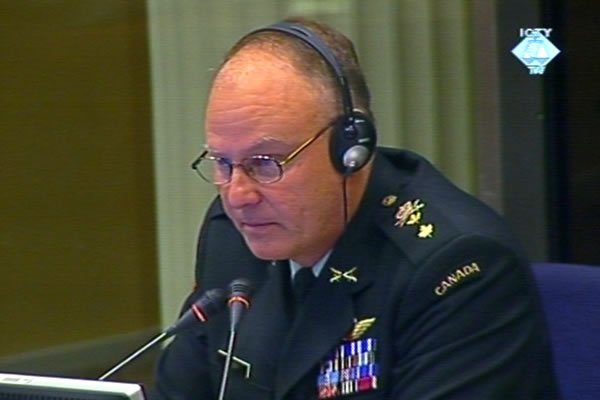 David Fraser, witness at the Radovan Karadzic trial
Former Republika Srpska president Karadzic is charged not only with double genocide and other crimes in BH from 1992 to 1995, but with his part in the operation in which hundreds of UN staff were taken hostage and used as human shields in the spring of 1995.
Continuing his cross-examination of Canadian general David Fraser, Karadzic tried to shift the blame for hostage-taking on the BH Army. According to Karadzic, the BH Army violated ceasefires in an 'attempt to provoke the Serbs into responding'. Karadzic also blamed NATO which launched air strikes on artillery positions around Sarajevo in September.
Karadzic noted that on 24 September 1994 the BH Army attacked Serb positions around Sarajevo and was thus the first to violate the agreement on the exclusion zone for heavy artillery. In Karadzic's view, the VRS artillery response was legitimate because the Serb side 'had the right to defend itself'. 'Why then were we bombed and why did that spoil our relations with you', Karadzic asked the former military assistant to the UN commander in Sector Sarajevo.
General Fraser noted that the UN sent a protest to the BH Army after they opened fire from the exclusion zone, but he added that the VRS should have refrained from responding. Fraser agreed that the VRS had the right to defend itself, but not with heavy artillery, because it had agreed not to use it under the terms of the exclusion zone agreement. 'You had enough other weapons to defend yourselves against this small-scale attack on a small part of the frontline', the witness said.
Karadzic also tried to prove that Hrasnica – where General Dragomir Milosevic ordered a modified air bomb to be fired on 6 April 1994 – was a 'legitimate military target'. It was 'swarming' with BH Army troops under the command of Fikret Prevljak, the Black Panthers and other special units, Karadzic claimed.
In his examination-in-chief, the Canadian general described the order in which General Milosevic demanded that his troops select 'the most profitable targets to cause as much damage to property and human casualties as possible' as 'particularly illegal'. The mere fact that there were soldiers in Hrasnica couldn't justify the shelling as 'it was a densely populated civilian area', the witness explained.
After General David Fraser completed his evidence, Karadzic resumed his cross-examination of Bogdan Vidovic, crime technician from the Sarajevo Security Services Center. Vidovic was involved in the investigations of sniper and artillery incidents in Sarajevo. The trial continues tomorrow.