Home
KARADZIC WANTS HIS 3,800 'LOST HOURS' BACK
The accused filed an appeal against the Trial Chamber's decision of 26 February 2010 to dismiss his motion to suspend the prosecution case until 17 June 2010. Karadzic is on trial for genocide and other crimes in BH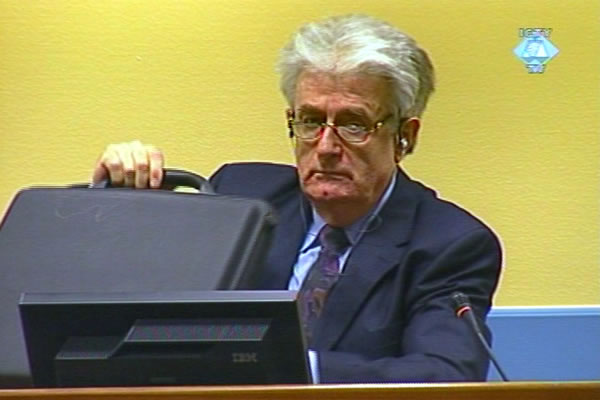 Radovan Karadžić u sudnici Tribunala
On 2 March 2010, the Trial Chamber granted Radovan Karadzic leave to appeal against the decision dismissing his motion to suspend the trial. Yesterday Karadzic submitted his brief demanding once again that the prosecution case be adjourned until 17 June 2010.
Karadzic's motion has two ground of appeal. First, Karadzic stated that when the Trial Chamber overstepped its bounds when it ordered his trial to continue on 1 March. The Trial Chamber, Karadzic argues, in effect overruled the decision of the ICTY president granting Karadzic's defense team a total of 4,800 billable work hours during the four-month adjournment of the trial, from last November to this March. The president's decision thus could not be implemented. Before the president intervened, Karadzic was granted 250 billable hours per month by the ICTY Registrar. Karadzic contends that while his trial was adjourned he could employ only two of the total of eight legal advisors and associates in his defense team. In four months, from November 2009 to March 2010, they worked only about 1,000 hours. The accused now wants his 3,800 'lost hours' back to be able to prepare for the trial with the full complement of advisors and assistants.
In his second ground of appeal, Karadzic claims that the Trial Chamber abused its discretion when it ordered the trial to go ahead on 1 March 2010 despite the conclusion of the ICTY President that the Registrar had acted 'unreasonably' when it approved only 250 billable hours per month to the defense team. The Trial Chamber thus violated the rights of the accused depriving him of adequate funds to prepare the defense.
Karadzic submitted his motion yesterday, right on the deadline for the appeal. The prosecution now has 14 days to reply to the brief. Since the accused then has the right to respond to the prosecution's reply, the decision of the Appeals Chamber is still weeks if not months away.
The ICTY president today appointed the judges who will consider Karadzic's motion: Mehmet Gunay, Fausto Pocar, Liu Daqun, Andresia Vaz and Theodor Meron. On 13 October 2009, the Appeals Chamber, with the same judges, dismissed Karadzic's initial motion in which he demanded a ten-month adjournment of the trial. Karadzic is accused of genocide and other crimes in BH from 1992 to 1995. If the Appeals Chamber now grants Karadzic's motion to postpone the trial until 17 June 2010, it will in fact give Karadzic the ten months it refused to give him in October 2009.