Home
KARADZIC'S MOTION DISMISSED
The Appeals Chamber dismissed in its entirety the motion filed by the former Republika Srpska president against the Trial Chamber's decision rejecting his motion to postpone the prosecution case until 17 June 2010. Karadzic is on trial for genocide and other crimes in BH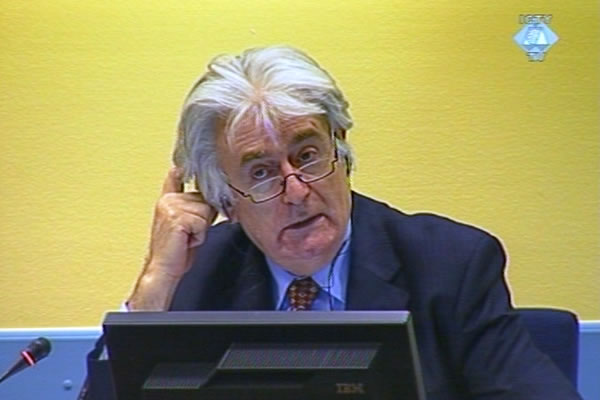 Radovan Karadzic in the courtroom
The Appeals Chamber dismissed both grounds of Karadzic's appeal against the Trial Chamber's decision of 26 February 2010. The Trial Chamber rejected Karadzic's motion to suspend the prosecution case until 17 June 2010. Karadzic requested it to make up for 3,800 hours purportedly lost after the Registrar granted Karadzic's defense team insufficient funds.
In his motion, Karadzic argued that when the Trial Chamber ruled that the trial should continue on 1 March 2010, it abused its discretionary power and in effect overruled the decision of the ICTY president granting Karadzic's defense team a total of 4,800 billable working hours during the four-month adjournment of the trial from last November to this March. In the second ground of appeal, Karadzic stated that the Trial Chamber overreached when it ordered his trial to continue despite the conclusion of the ICTY President that the Registry acted 'unreasonably' when it approved only 250 billable working hours to the defense team, thereby violating Karadzic's rights, depriving him of adequate funds to prepare for his defense.
In its decision disclosed today, the Appeals Chamber found that Karadzic's first ground of appeal was based on 'the misconception of both the law and the Impugned Decision', since the decision of the ICTY President referred only to additional funds for the defense team. Setting the date and the actual conduct of the trial is in the sole jurisdiction of the Trial Chamber and the ICTY President cannot issue any binding orders to it.
When it scheduled the trial to resume on 1 March 2010, the Trial Chamber 'took into account all the relevant factors including the impact of the decision of the ICTY President on additional funds for Karadzic's defense team… and made no error in assessing that the further postponement of the trial was not justified', the Appeals Chamber stated in its decision.
The Trial Chamber is expected to issue an order setting the date when the trial will continue, most likely in mid or late April 2010.