Home
KNIN EC MONITORS' LOGBOOK NOT IN EU ARCHIVES
Following the Trial Chamber's request for a 'more detailed' report on the steps taken to locate the EC Knin monitors' logbook drafted during Operation Storm, Secretary-General of the EU Council Pierre de Boissieu says that more than 200,000 documents were searched, but the Knin logbook sought by Gotovina's defense has not been located. De Boissieu has advised the Trial Chamber to address the EU Monitoring Mission member states in the effort to locate the missing document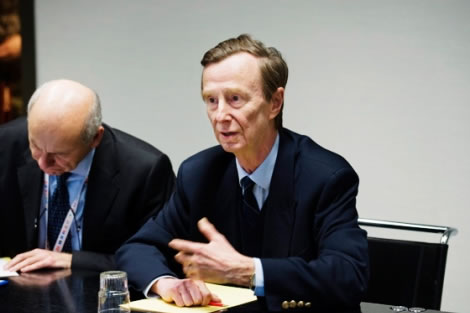 Secretary-General of the EU Council Pierre de Boissieu
Secretary-General of the EU Council Pierre de Boissieu today submitted to the Trial Chamber with Judge Orie presiding a report detailing the steps taken to locate a logbook of the European monitors drafted during Operation Storm in 1995, sought by General Ante Gotovina's defense. The logbook is the last document that remains unaccounted for in the EU archives after the defense has requested it. Two weeks ago, the judges asked the EU Council to deliver a 'more detailed' report on the enquiry.
In his letter, De Boissieu says the EU staff has searched almost 200,000 documents electronically and another 10,000 manually since last year. None of documents has been identified as the
Logbook of the Knin Regional Cente
r. The search, the letter goes on, uncovered more than ten documents produced by the European monitors in Knin: daily reports, situation reports, humanitarian reports and weekly assessments. A number of daily and weekly reports drafted by the European monitors from other regional centers were located. All those documents are available to Gotovina's defense, De Boisssieu noted.
By way of conclusion, the secretary-general instructed the judges and Gotovina's defense to address the states that were members of the EC Monitoring Mission and ask them to search their national archives in order to find the missing documents.
The correspondence between Gotovina's defense, the Trial Chamber and the EU started in March 2009. The defense contended that they never received almost 100 EC monitors' reports. Now, in one of its latest motions, Gotovina's defense claims they have yet to receive the controversial logbook of the EC monitors' Knin Regional Center.
The trial of Croatian generals Gotovina, Cermak and Markac on charges of crimes against Serbs during and after Operation Storm is now in its final stage. The Trial Chamber will now examine seven witnesses it has called to testify. The first witness has been provisionally given the pseudonym CW-1 and will begin his evidence on Wednesday, 24 February 2010.