Home
TRIAL CHAMBER: 'EU SHOULD DELIVER A MORE DETAILED REPORT'
Not satisfied with the last EU report on the steps taken to locate the EC monitors' logbooks from Knin, the Trial Chamber issued an 'urgent' invitation to the Secretary-General of the EU Council to provide a more detailed report about the search of the European archives within 14 days. Gotovina's defense has sought the logbooks of the European monitors from Knin for some time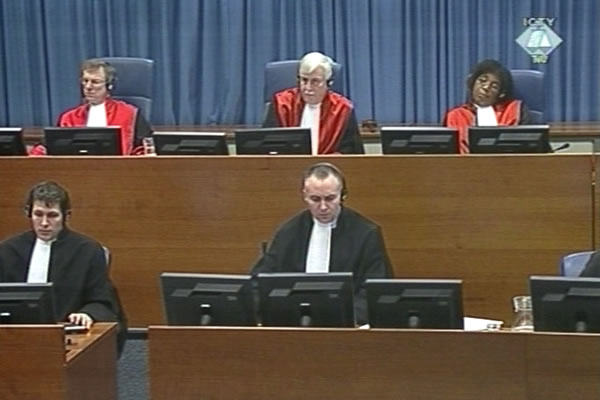 Trial chamber at the Ante Gotovina, Ivan Cermak and Mladen Markac trial
The Trial Chamber hearing the case of Croatian generals Gotovina, Cermak and Markac invited the EU to deliver within 14 days all the information on the steps taken to locate the logbooks kept by the EC Monitoring Mission Regional Center in Knin. The defense has sought those documents, because, as it has contended, they contain reports the European monitors drafted during and after Operation Storm. The three generals are charged with numerous crimes committed against Krajina Serbs and their property at that time.
The Trial Chamber sent a similar request to the EU in mid-December 2009. A month later, it replied that 'once again, all the steps were taken' but the logbook 'simply couldn't be located'. In the Urgent Invitation to the EU made public today, the Trial Chamber notes it expected to receive more detailed information about what was done, such as the names of archivists and other officials consulted about the controversial logbooks. The Trial Chamber also expected to be given details about the chain of custody for archiving of that document. This is why the Trial Chamber invited the EU to deliver detailed information this time about the efforts, noting that the deadline for the submission of the documents could be extended beyond the original 14 days, if necessary.
As on previous occasions, the Trial Chamber with Judge Orie presiding sent the request to the Secretary-General of the EU Council, Pierre de Boissieu, who has recently succeeded Javier Solana.
The correspondence between Gotovina's defense, the Trial Chamber and the EU began in March 2009. The defense maintained that it didn't receive almost 100 reports of the European monitors. In one of its last motions, Gotovina's defense stated that only the controversial logbook of the European monitors from the Knin Regional Center was still missing.
The trial of the Croatian generals has entered its final stage. The Trial Chamber now has to hear the last seven witnesses it has called. The first Chamber witness has been provisionally named CW-1 and will begin his evidence on Wednesday, 24 February 2010.