Home
THE TRIAL CHAMBER CALLS WITNESSES AT THE OPERATION STORM TRIAL
At the administrative hearing in the trial of generals Gotovina, Cermak and Markac, the judges indicated they would call additional witnesses. The names of witnesses were not disclosed today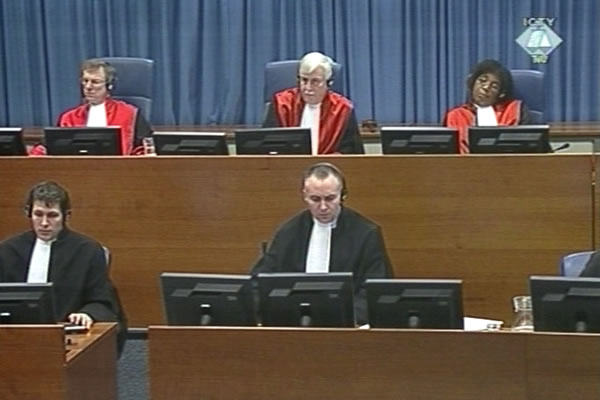 Trial chamber at the Ante Gotovina, Ivan Cermak and Mladen Markac trial
Last week, the defense of third-accused Mladen Markac rested its case at the trial for the crimes committed during Operation Storm. Today the last administrative issues regarding the admission of documents were dealt with. The trial of the Croatian generals is not over yet. As indicated today, the Trial Chamber with Judge Orie presiding will call its witnesses.
The presiding judge didn't disclose the names and the number of witnesses the Trial Chamber decided to call. According to the presiding judge, the scheduling order, to be issued soon, will clear all that up.
As the administrative hearing started today, the prosecution was granted permission to reply orally to the objections of Gotovina's defense against the work of investigator Joachim Robertsson. The defense alleged that Robertsson inserted his own claims into the statement given by former UN Sector South commander Alain Forand. Also, according to the defense, Robertsson omitted claims that were potentially exculpatory for the accused.
Prosecutor Gustaffson denied any such allegations, asking the Trial Chamber to overrule the objections of Gotovina's defense. In April 2009, when Forand testified, the defense teams had a chance to go through the controversial parts of his statement, the prosecutor noted, but they failed to do it. The prosecution contends that the defense motions lead to the conclusion that investigator Robertsson was guilty simply because he was a Swede who purportedly took instructions from Carl Bildt. After Operation Storm, Bildt was declared a persona non grata in Croatia for his claims about the indiscriminate 'barbaric attack on Knin'.
Defense counsel Misetic replied that the defense didn't bring up Robertsson's ethnic background; instead it focused on the fact that he had worked for the Swedish intelligence service. The defense proposed that the Trial Chamber order the prosecutor to talk to the investigator and obtain information on how Forand's statement was taken.
Ending the hearing today, the presiding judge said that the Trial Chamber will not sit until further notice.