Home
SESELJ'S MOTION TO STOP THE TRIAL DISMISSED
The Trial Chamber dismissed Vojislav Seselj's motion to stop the trial for purported abuse of process. Zoran Krasic and Slavko Jerkovic see their status as legal advisers restored and will now be able to help Seselj with his case, if the accused decides to proceed with it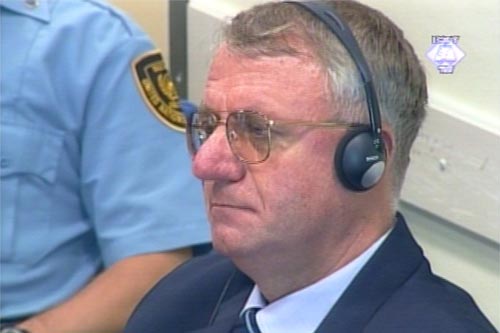 Vojislav Seselj in the courtroom
The Trial Chamber hearing the case against the Serbian Radicals' leader Vojislav Seselj on charges of crimes against humanity in BH, Croatia and Vojvodina, dismissed the motion of the accused to stop the proceedings against him for purported abuse of process. Seselj presented the motion orally at the administrative hearing in October 2009, noting that his rights had been violated because of the delays in the prosecution case.
At the administrative hearing, Seselj repeated that his indictment was the result of a deal between Chief Prosecutor Carla Del Ponte and late Serbian prime minister Zoran Djindjic. Seselj also noted that the prosecution intimidated his witnesses and failed to prove the counts in the indictment.
In its decision divulged today, the Trial Chamber didn't even consider the first two allegations of the accused, having already done so and dismissed them. The Trial Chamber will rule on Seselj's third claim – that the prosecution has failed to prove the allegations in the indictment – after a Rule 98 bis hearing. Seselj has indicated that he will demand to be acquitted pursuant to the Tribunal's Rule 98 bis in late March, once all the witnesses have been heard. According to Seselj, the prosecution has not called a shred of evidence proving Seselj's responsibility for the crimes he is charged with.
The only argument that the Trial Chamber considered at all was his claim that his trial went on for too long. The Trial Chamber contends that in Seselj's case the right of the accused to an expeditious trial has not been violated in the view of 'the complexity of the case, number of witnesses and admitted evidence', the behavior of the parties and serious accusations against Seselj. That is why Seselj's motion to stop the trial was rejected.
The Trial Chamber did grant Seselj's other motion and restored the legal adviser status to Zoran Krasic and Slavko Jerkovic; they are to help Seselj go on with his case if he decides to do so. In November 2008, Zoran Krasic and Slavko Jerkovic were stripped of their status amid allegations that they were involved in the intimidation of prosecution witnesses and disclosure of confidential information. They also made public statements to 'discredit the Tribunal'.