Home
WITNESS: 'ARMY TROOPS, NOT POLICE, BURNED HOUSES'
In his evidence as General Markac's defense witness, former member of the Croatian Special Police medical corps Ivan Herman contends that the situation in Donji Lapac in August 1995 was 'satisfactory' for as long as the special police stayed there. Houses and haystacks had been set on fire by the Serbian troops as they retreated; when the Croatian Army entered the town, the burning started again, Herman said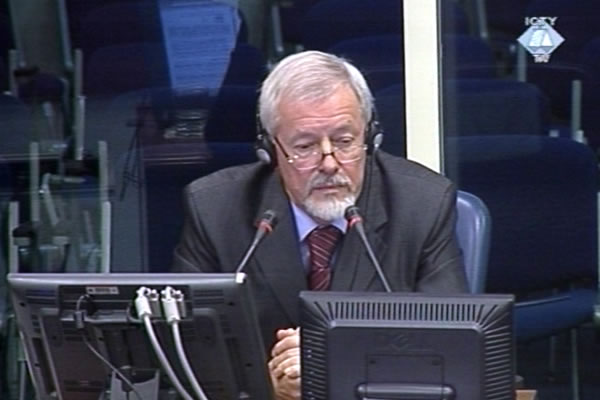 Ivan Herman, svjedok odbrane Mladena Markača
On the last working day of this year, the defense of former Croatian Special Police commander called Ivan Herman, a doctor from Varazdin. In Operation Storm, Herman served as a volunteer with the Croatian Special Police medical corps. In the five days, from 4 August 1995 on, Herman went from Mount Velebit to the BH border. Markac's defense challenged the prosecution's allegation that many crimes were committed in that period in Gracac, Donji Lapac and other places where the special forces went. Generals Gotovina, Cermak and Markac are on trial for their role in the joint criminal enterprise aimed at the permanent expulsion of Serbs from Krajina.
Dr. Herman said they advanced quickly in those days; so quickly that Herman didn't see any special police committing any crimes. When the operation started he passed through some Croatian villages which had been completely destroyed. In Gracac, many civilian houses were abandoned but, as Herman explained, they were not damaged. Just a few houses had been hit by shells. The few elderly civilians that stayed in their houses were given help: medicines, water and food, Herman stated.
As Herman recounted, the situation in Donji Lapac was rather rough, but the Serb and Croatian troops were to blame, not Markac's special units. The witness maintained that when the police entered the town on 7 August 1995 they saw several destroyed houses and haystacks that had been set on fire by the Serb fighters as they retreated. The situation was 'satisfactory' until the Croatian Army arrived, when all-out celebration started. At one point, Herman recounted, the soldiers started celebrating 'in a strange way', firing their weapons into the air. Herman and other special police soon withdrew to the outskirts of the town in Lika. As they did so, Herman saw some houses burning. As some earlier Markac's witnesses, Dr. Herman blames the fires in Donji Lapac on the units of the HV Gospic Military District.
In his cross-examination, the witness stressed he didn't see who set the houses in Lapac on fire, repeating that the army troops were there at the time. As a senior member of the special police, the witness added that he acted 'to educate' his younger fellow fighters. Herman told them not to set abandoned buildings on fire because they were homes of Croatian citizens. According to the witness, General Markac felt the same was, always insisting that the special police should treat all civilians humanely 'regardless of their religion, ethnic origin, gender or skin color'.
The General Markac's defense continues its case after the Tribunal's winter recess, on 11 January 2010.