Home
EUROPEAN UNION ASKED TO DELIVER 'KNIN LOGBOOK'
Granting the request of Ante Gotovina's defense, the Trial Chamber today asked the European Union to 'focus and intensify' its efforts to find a compendium of logbooks produced by the EC Monitoring Mission in Knin. The diaries contain reports drafted during and after Operation Storm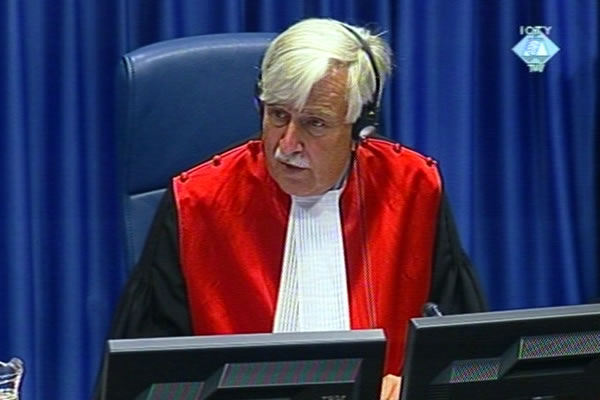 Alphons Orie, sudija Tribunala
Judge Orie's trial chamber asked today the European Union to 'focus and intensify' its efforts to search the archives and locate the logbooks of the Knin Regional Center of the EC Monitoring Mission. The logbooks should contain reports drafted during Operation Storm and in its aftermath. In the next 14 days, the logbooks or their parts should be located and delivered to Ante Gotovina's defense, the Trial Chamber said in its missive. If the documents are not located, the judges expect to receive an overview of all the activities undertaken to find them.
The call went out to Pierre de Boissieu, the Secretary General of the Council, and Catherine Ashton, EU's High Representative for Foreign Affairs and Security Policy. On 1 December 2009 De Boissieu and Ashton succeeded Javier Solana, whom the Trial Chamber had sent a number of missives regarding the European monitors' documents.
The correspondence between Gotovina's defense, the Trial Chamber and the EU began in March 2009 when the defense stated they had yet to receive almost 100 reports of the European monitors. The OTP has since repeatedly declared that some of these documents have been already disclosed to the defense as part of the regular procedure. Solana's office, on the other hand, has contended that the defense investigators have been granted access to the EU archives were the documents are stored.
In the last motion, on 10 November 2009, the defense indicated they were only seeking to obtain the European monitors' reports from 4 to 15 August 1995. The reports are compiled in a compendium of all the logbooks produced by the Knin Regional Center of the EC Monitoring Mission.
Generals Gotovina, Cermak and Markac are on trial for their alleged participation in the joint criminal enterprise aimed at the expulsion of Serbs from Krajina during and after Operation Storm. The Croatian special police commander Mladen Markac is in the middle of his defense case. The trial is expected to end by late January 2010.