Home
DEFENSE EXPERT: 'SPECIAL UNITS DIDN'T CONTROL TERRITORY'
In his evidence as a defense witness of the Croatian special police commander Mladen Markac, General Dragutin Repinc claims that the police task in Operation Storm was to push back the enemy from the territory between Mount Velebit and the BH border. According to Repinc, the police was not there to control the liberated territory. The prosecution alleges that a number of incidents involving arson and looting of abandoned Serb property occurred there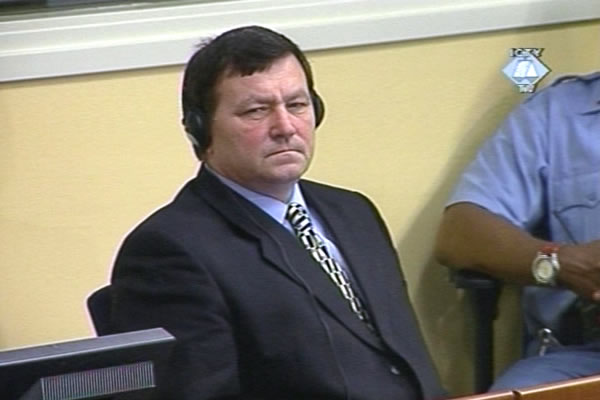 Mladen Markac in the courtroom of the Tribunal
The defense of the Croatian special police commander Mladen Markac continues its case with the evidence of Dragutin Repinc. Repinc, a military general currently serving as Chief of the Planning Directorate in the HV Main Staff, can be described as a military expert on police issues. In his expert report, tendered into evidence today, Repinc described the role of the special police during and after Operation Storm in the summer of 1995. Generals Gotovina, Cermak and Markac are charged with numerous crimes that were committed against Krajina Serbs and their property at that time.
About 2,200 special police participated in Operation Storm, Repinc said. Repinc described the special police - led by a staff of consisting of only 15 persons – as a military force 'with a small head and a large body'. Staff commander Mladen Markac and his deputy Zeljko Sacic were at the top of the 'small head'.
The witness noted that military and police documents led him to conclude that the special police during and after Operation Storm operated 'under the command and following strict instructions' of the HV Main Staff. This is why General Markac did not have full freedom in matters of planning compared, for example, to commanders of military districts such as Ante Gotovina. According to Repinc, the special police commander could only decide how to carry out the missions he was given by the military leadership and not what to do next.
In a way, Repinc summarized what some other witnesses called by Markac had said describing the war record of the special police in Operation Storm. According to Repinc, on 4 August 1995 the special police set off from Mount Velebit. They first captured Mount Celavac, where the enemy had a communication node. The next day, the special police entered Gracac and later Donji Lapac, in Lika. From there, the special police advanced in two directions towards the border and Kulen Vakuf, a town in BH.
A key feature of the special police's role in Operation Storm, the witness said, was that their tasks were directed 'only at the enemy and not the territory'. In other words, the enemy was to be driven out of the territory between Mount Velebit and the BH border. The special police was not there to control the liberated territory in the long-term. Thus, once Gracac was liberated, it was left to the military and civilian police and Donji Lapac to the army, although a small number of the special police remained there. As alleged in the indictment, a number of incidents involving looting and arson of abandoned Serb property occurred in Gracac and Donji Lapac.
Croatian general Repinc continues his evidence tomorrow.