Home
FOLLOWING THE CROATIAN SPECIAL POLICE
Davor Pavlovic, Mladen Markac's assistant for communications, described the movements of the Croatian special police during Operation Storm. Pavlovic contends that the special police didn't take part in crimes; it was not their task to investigate crimes, he added. The Croatian special police 'fixed' broken-down civilian vehicles, he said, in order to drive them away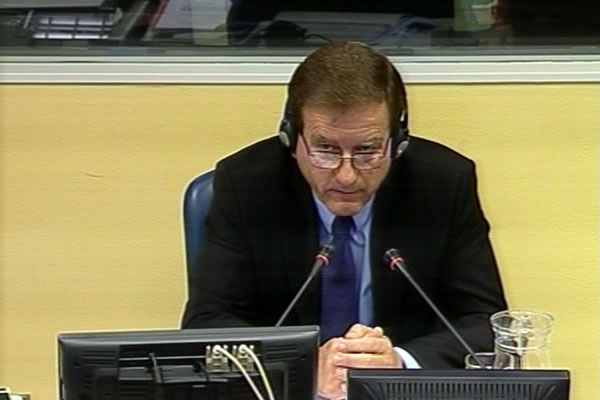 Davorin Pavlović, svjedok odbrane Mladena Markača
During Operation Storm retired police officer Davorin Pavlovic served as assistant commander for communications in the Special Police, commanded by Markac, who called the witness Antena. In his statement to Markac's defense admitted into evidence today, Pavlovic said that the special police in Operation Storm operated under the command of the HV Main Staff. Markac is charged with 'contributing' to the permanent elimination of Serb population from Krajina through crimes perpetrated by the special police under his command. The elimination of Serbs from Krajina was the goal of the joint criminal enterprise as alleged in the indictment. Two other accused, Ante Gotovina and Ivan Cermak, are charged with the same crimes.
Pavlovic said that the special police were ordered to capture several peaks on the Velebit mountain on the first day of Operation Storm. Mount Celavac, the main communication node of the RSK Army, was among them. When the special police completed this mission, they entered Gracac. The special police then set up their HQ there, with Markac as its head. The prosecution was trying to prove that the town was looted and many houses burned down during that period. The witness claims that he saw only one house on fire and a number of others damaged by shells when he entered Gracac.
Through Belgian journalist Edmond Vanderostyne, the prosecution tendered into evidence a number of photos taken on 8 August 1995 in Gracac. The photos show Special Police Unit Delta troops jumpstarting civilian vehicles; later they painted the name of their unit on the car. Markac's former deputy said that those were broken-down cars left abandoned by the road. The police, the witness maintained, only entered those vehicles to drive them away to 'a place designated for abandoned goods'. However, because there weren't enough vehicles, some abandoned cars were used by the special police, the witness said, adding that the units would paint their names on the cars to avoid friendly fire incidents.
In the morning of 6 August 1995, an order came to advance towards Donji Lapac and the special police arrived there the next day. Soon afterward, as the witness described, they moved on towards the BH border. Only a small number of signalmen and logistics people remained in Donji Lapac. The prosecution case was that Donji Lapac was also looted and burned down. Pavlovic countered the claim, saying that on 7 August 2007 he saw only two houses on fire. After the special units left, the 118th Home guard Regiment came to Donji Lapac. The witness claims that the special police' only task was to capture the designated areas. They handed them over to the civilian police, who were in charge of investigating any crimes.
Davorin Pavlovic is expected to complete his evidence tomorrow. Markac's defense indicated it would rest its case by the end of January 2010, in the first or the second week following the winter recess.