Home
TWO SIDES OF TUDJMAN'S PERSONALITY
Croatian president Franjo Tudjman said it was impossible for the Serbs to return to Krajina after Operation Storm. Mate Granic, who served as Croatian foreign minister at the time, explained that one should distinguish Tudjman as a historian from Tudjman as a politician. The former, Granic explained, often made historical assessments of whether it was possible for the refugees to return home after the war. The latter was a pragmatist who always complied with the recommendations of the international community, said Granic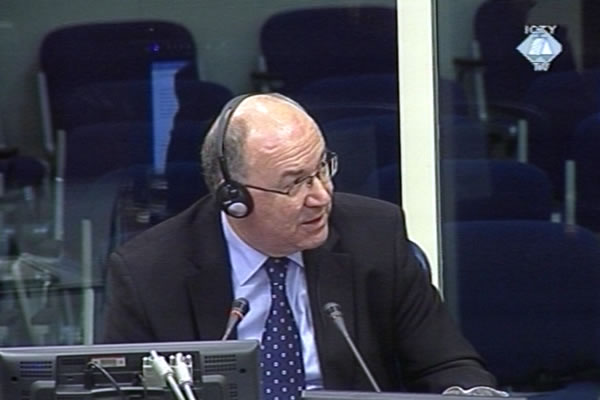 Mate Granić, svjedok odbrane Mladena Markača
In an effort to contest Mate Granic's claims that Croatian authorities acted in good faith to ensure the return of the Serbs after Operation Storm in the summer of 1995, the prosecution showed a series of statements Franjo Tudjman made at that time. Talking to the media and at the meetings with various domestic and foreign politicians on a number of occasions, Tudjman said that the return of Serbs was 'impossible' and 'practically inconceivable'.
'There is substantial difference between Tudjman as a historian and Tudjman as a politician', Granic noted. According to him, when Tudjman said it was impossible for the Serbs to return, he made an assessment as a historian; this was not an indication of his intentions. Granic claims he knew the president well: Tudjman was a pragmatic statesman who complied with the recommendations of the international community regarding human rights. Mate Granic is testifying for the defense of former Croatian special police commander Mladen Markac. Together with generals Gotovina and Cermak, Markac is on trial for taking part in the joint criminal enterprise headed by Tudjman. The aim of the joint criminal enterprise was to expel Serbs from Krajina.
In his book Foreign Affairs, Politics Behind Scenes, parts of which were admitted into evidence by the prosecution, Granic noted that he himself was embarrassed when Tudjman made one such 'historical' proclamation. At a rally in Karlovac after Operation Storm, Tudjman said to the crowd 'I can tell those Serbs who do not want the Croatian state not to come back'. Granic broke out in cold sweat when he heard that. Today he explained that the president might have been 'transported by the atmosphere'. Granic as the foreign minister didn't want any public announcements that 'may hurt Croatia's foreign friends. 'So you broke out in cold sweat because Croatia's image may have been tarnished and not because you cared about Serb refugees', the prosecutor noted. Granic didn't reply directly, saying he devoted years of his career to caring for the refugees. The prosecution alleges that preventing the Serbs from returning to Krajina after Operation Storm indicates that even before the operation, there was intent on the part of the Croatian authorities to expel the Serbs permanently from those areas.
As the hearing drew to a close, Judge Orie brought up the Brijuni transcript of 31 July 1995, where defense minister Susak proposes that leaflets be distributed to Serb civilians after the first day of Operation Storm, showing exit routes to BH and Serbia. President Tudjman agreed with the proposal. The presiding judge wanted to know how throwing leaflets with exit routes jibed with Granic's claims that Serbs were urged to stay in Croatia. This was a conversation with the people who were to lead the operation, and the purpose was most likely to achieve military victory, the witness replied. According to Granic, Tudjman never said anything of the sort when he spoke with Croatian politicians. Had Tudjman done it, Granic would have opposed him, telling Tudjman that the Serbs' human rights had to be 'respected sincerely and deeply'.
Former Croatian diplomat completed his evidence after four days. Mladen Markac's defense will call its next witness on Monday.