Home
SERBS COULD RETURN THREE YEARS AFTER OPERATION STORM
Former chief of the Croatian Office for Refugees and Displaced Persons Lovre Pejkovic contends that the requirements for a mass return of the Serbs to Krajina were not met until 1998. Before that, Pejkovic explained, permissions were granted on a case-to-case basis and for 'go and see' visits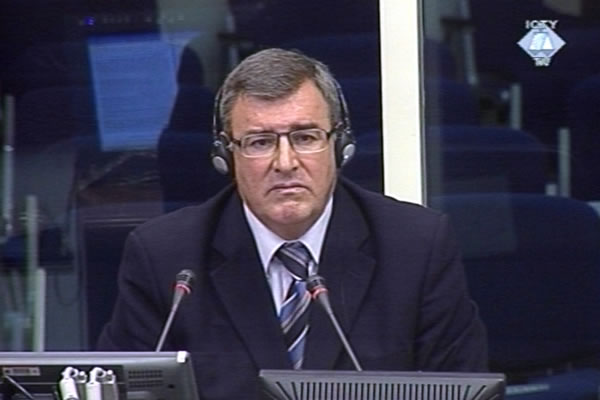 Lovre Pejković, svjedok odbrane Mladena Markača
The indictment against generals Gotovina, Cermak and Markac alleges that the deportation and forcible transfer of Serbs from Krajina went hand in hand with the effort to 'prevent them from returning to that area'. Generals Gotovina, Cermak and Markac are charged with crimes during and after Operation Storm. The prosecution argues that the fact that the Croatian leadership tried to prevent the Serbs from returning indicates it intended to eliminate the Serbs permanently from Krajina. This, according to the prosecution, implies that there was a joint criminal enterprise with such a goal. In an effort to challenge the prosecution case, General Mladen Markac's defense called Lovre Pejkovic, former chief of the Croatian Office for Refugees and Displaced Persons, as its witness.
The witness claims that the Croatian government did everything it could to make it possible for the Serbs to return to the territories liberated during operations Flash and Storm, following the recommendations of the highest international institutions. The Croatian authorities, Pejkovic said, were guided by the statement of UN High Commissioner for Refugees Sadako Ogata. In October 1995, at a meeting in Geneva, Ogata said that the return had to be voluntary and carried out in three stages. The first to return would be those displaced within Croatia, followed by the refugees from the neighboring countries and finally, by the refugees from the European countries and overseas.
Perkovic argued that after Operation Storm Serbs whose families remained in Krajina were allowed to return on a case-to-case basis. There was goodwill on the part of the Croatian authorities, the witness said, noting that 'go and see' visits were organized at that time, allowing the Serbs who had fled to come back and check their property and decide if they wanted to come back. Security and other requirements for a mass return to Krajina were not met until 1998, Pejkovic explained, when a plan for the return of the displaced persons and refugees was made.
Defense counsel Goran Mikulicic brought up an example of the application to return that was actually granted: in 1996, former high-ranking official of the Krajina SDS, Jovo Opacic applied for permission to return to Croatia with his family, claiming that Croatia was his state. He left it, Opacic said, 'as a part of an exodus that crowned the failed policy pursued by Slobodan Milosevic and the Krajina leadership'. When the presiding judge asked the witness when Opacic's application was granted, the witness said it was 'sometime in 1998', two years after it was submitted.
By the end of the hearing today Pejkovic didn't specify either the total number of Serbs who had fled Krajina or the number of Serbs who had come back, according to the Croatian authorities' data. Pejkovic continues his evidence tomorrow.