Home
SESELJ WILL CONTINUE DEFENDING HIMSELF
The Trial Chamber has rejected the prosecution motion, filed last year, to assign counsel to the Serbian Radical Party leader, because of his efforts to obstruct the trial and to abuse and intimidate witnesses. Seselj commended the judges, saying that he never questioned their 'moral integrity and professional dignity'. The prosecution has indicated it would consider whether to appeal against the decision, after it receives the full decision in writing. Seselj has called for his acquittal for 'abuse of process'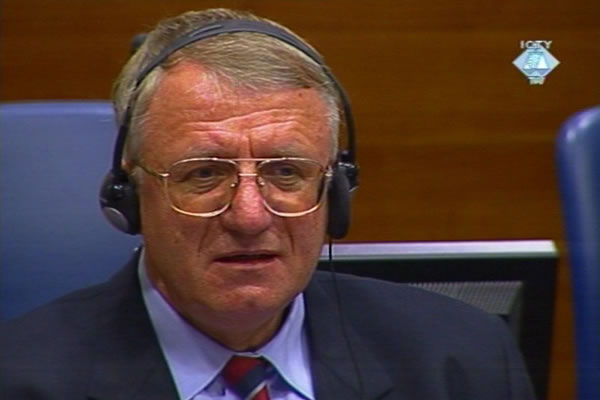 Vojislav Seselj in the courtroom
At the beginning of the administrative hearing in the case of Serbian Radicals leader Vojislav Seselj – charged with crimes against non-Serbs in Croatia, BH and Vojvodina – presiding judge Antonetti read out the three decisions of the Trial Chamber. The first and the most important decision is on the prosecution's motion to assign counsel to the accused because of his inappropriate behavior in the courtroom and abuse and intimidation of witness. The motion, filed in July 2008, was rejected. The Trial Chamber will provide a statement of reasons in writing 'in the weeks to come'
In the remaining two decisions, the Trial Chamber declared that it 'currently lacked jurisdiction' to rule on Seselj's motion to restore the status of a privileged associate to Seselj's fellow party member Zoran Krasic and on the issue of purported 'misbehavior' of the UN Detention Unit's management concerning the delivery of some video recordings to Seselj's associates. In both cases, before the Trial Chamber is able to intervene, the accused must first submit his appeal to the ICTY president, Judge Antonetti explained. Seselj has already done that in the matter of Krasic's status.
Vojislav Seselj described all three decisions as 'proper', noting that he had expected the motion to assign counsel to be dismissed; he never questioned 'the moral integrity and professional dignity' of the members of the Trial Chamber 'regardless of the hue and cry I raised on that issue'. Seselj then turned to the question when the trial, adjourned in February 2009, would continue.
The accused wants the prosecution to state whether it is ready to continue calling its witnesses as soon as possible. If it cannot, then the Trial Chamber should decide to stop the trial because of 'abuse of process', Seselj argues. In support of his motion, Seselj quoted a decision of the British House of Lords, stating that the judges have a discretionary right to stop a trial if there are substantial delays and 'a violation of the sense of justice and fairness'. Seselj also invoked a decision of the International Criminal Tribunal for Rwanda, stating that a trial may be stopped if there are grave violations of the rights of one of the parties.
The Trial Chamber ordered the prosecution to reply in writing to Seselj's motion on 'abuse of process' within 15 days. When Seselj invited prosecutor Marcusen to state whether the prosecution was ready to proceed with its case as soon as possible, the prosecutor noted that the trial had been suspended in February 2009 because of intimidation of witnesses and threat to the integrity of the trial; Seselj did not appeal the decision, going against the advice of the presiding judge, and the trial will remain adjourned until the Trial Chamber rules differently. According to the accused, the prosecution has only five and a half hours left to call its evidence. Marcusen also noted that the prosecution would decide whether to seek leave from the Trial Chamber to appeal against the decision rejecting the motion to assign defense counsel to the accused once it received the full decision in writing.