Home
SESELJ CALLS FOR HIS TRIAL TO RESUME
Serbian Radical Party leader Vojislav Seselj has asked the Trial Chamber to reconsider its decision to suspend his trial and to order the prosecution to go on with its case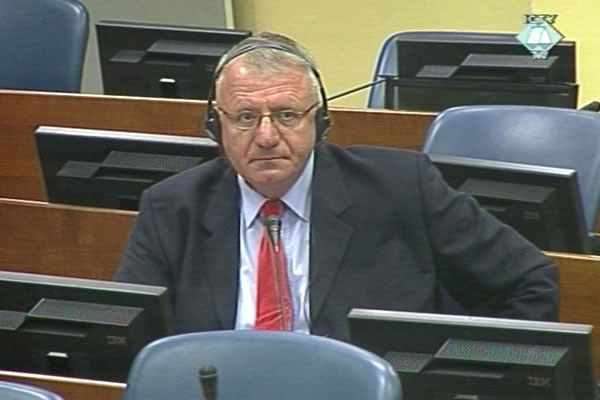 Vojislav Šešelj u sudnici Tribunala
Serbian Radical party leader Vojislav Seselj urged today the Trial Chamber to review its February 2009 decision to suspend his trial; the Chamber decided to suspend the trial because of intimidation of witnesses and jeopardy to the integrity of the trial. Seselj urged the Trial Chamber to order the prosecution to continue with its case.
At a status conference, Seselj pointed that the decision reached by the Trial Chamber with a majority of votes was 'left hanging in the air' as 'no proceedings have been instituted for intimidation of witnesses' against him or his collaborators to date. Last month Seselj was sentenced to 15 months in prison because he had disclosed information on three protected prosecution witnesses in one of his books.
According to Seselj, the prosecution requested that the trial be suspended following the claim by one of its witnesses that he had been threatened by Seselj's collaborators. Seselj argues that his collaborators 'merely contacted the witness, as they are allowed to'. As the witness himself allegedly confirmed, Seselj's collaborators were 'kind' to him and he 'was scared because of the overall atmosphere in Serbia'.
The accused claims that the prosecution itself has admitted the witness has blackmailed it, demanding that the prosecution move him and his family if they wanted him to confirm what he had told the OTP investigators earlier. In Seselj's words, the prosecution has given him two documents confirming that the witness had never served in the army or worked for the Serbian MUP as he has claimed. Seselj believes this new information must be taken into account by the Trial Chamber when it reviews its decision to adjourn the trial. If the Trial Chamber fails to do this, Seselj notes, his 'trial would become pointless' and his 'fundamental rights to a fair trial in reasonable time' would continue to be jeopardized.
The prosecution, it was indicated today, will reply to Seselj's request within 10 days, and the Trial Chamber will then decide whether to continue the trial or not.
The Serbian Radical Party leader today again indicated that after the prosecution had finished examining its remaining ten-odd witnesses he intended to present arguments under 98 bis of the Rules of Procedure and Evidence, demanding to be acquitted on all counts in the indictment, because in his opinion, the prosecution had not called sufficient evidence that, if accepted, would lead to his conviction.
A new status conference on housekeeping matters in the case against Vojislav Seselj will most likely be held in early October 2009. Seselj is on trial for crimes in Croatia, Vojvodina and BH.