Home
SESELJ DEMANDS 'TELEPHONE PRESS CONFERENCE'
After an 11-month suspension because of intimidation of witnesses and jeopardy for the integrity of the process, the trial of Vojislav Seselj continued today. The accused asked to be allowed to take part in the campaign for the by-election in Odzaci, a municipality in Vojvodina. Seselj demanded to be allowed to conduct a 'telephone press conference'. The last prosecution witness, who was the police commander and SDS vice-president in Zvornik, began his testimony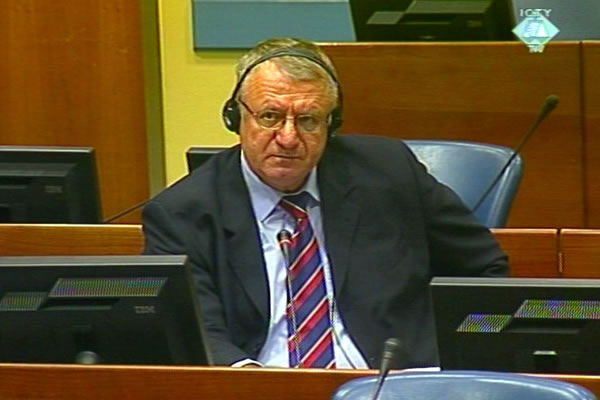 Vojislav Seselj in the courtroom
Before the evidence of the last prosecution witness at the Vojislav Seselj trial began, the accused Serbian Radical Party leader asked the judges to grant him permission to address the public in a 'telephone press conference' before the by-election in the Odzaci municipality in Vojvodina. Seselj used the example of Radovan Karadzic, who was granted permission to give interviews in detention. Ramush Haradinaj, while on provisional release, was allowed to be politically active.
Judge Antonetti advised the accused to submit his request first to the ICTY Registry, adding that the Trial Chamber would consider it if the Registry turned it down. Judge Antonetti also called the prosecution to give its position on Seselj's request.
During the testimony of the last prosecution witness, the court frequently went into closed session. He is a former businessman and official of the Serbian Democratic Party from Zvornik. The prosecution interviewed the witness several times as a suspect. In December 2008, the prosecution consolidated a number of his statements into a single statement, whose accuracy he confirmed today.
Testifying with protective measures, facial image distortion and pseudonym, VS 037 said that until the summer of 1991 he was a commercial director in a private business. In July and August 1991, he was appointed commander of the police station in Zvornik, remaining on that duty until April 1992, when he became director of a transport company. The witness joined the SDS in the spring of 1991 and for some time he was the vice-president of the party's Municipal Committee.
According to the witness, Zvornik was a town of 'particular strategic importance' because it was on the border with Serbia, there was hydroelectric power plant, the bridges over the Drina River and the train crossing between BH and Serbia. Until the war, Serbs made up 38 percent of the population in Zvornik. In the first months after the war broke out, the Muslims, who used to be in the majority, were either expelled or killed. As alleged in the indictment, the local SDS bodies and paramilitary units from Serbia, including so-called Seselj's men, took part in the ethnic cleansing campaign.
The prosecution particularly wanted to know what the witness knew about Seselj's relations with Zoran Subotic, a SRS official and a commander of the Territorial Defense in Zvornik. Seselj interrupted the examination on that topic, saying he was ready to admit his close relations with Subotic. The evidence of the protected witness VS 037 continues tomorrow.