Home
DEFENCE EXPERT: 'GOTOVINA DID EVERYTHING TO PREVENT CRIMES'
US military expert Anthony Jones has claimed General Ante Gotovina helped calm the situation by constantly issuing orders to prevent crimes and punish the perpetrators. According to the witness, this is manifest from military reports which make no mention of any crimes involving HV personnel after 18 August 1995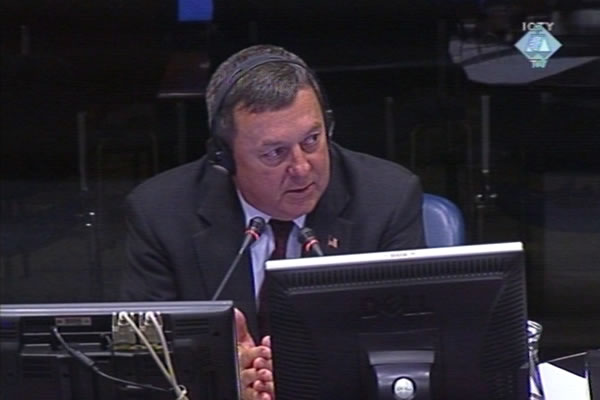 Anthony Jones, svjedok odbrane Ante Gotovine
The defense of Ante Gotovina continues its case at the trial of the Croatian generals for crimes during and after Operation Storm with the evidence of retired US general Anthony Jones. The defense asked Jones to draft a military report about the duties of an operational military commander. In his report, Jones focused on General Gotovina's activities. As the commander of the Split military District Gotovina led the Croatian troops in Operation Storm in early August 1995.
General Jones found that Ante Gotovina had taken all necessary and reasonable measures to prevent looting and burning down of Serb houses in parts of Krajina the HV liberated in Operation Storm. Those measures mainly comprised orders to subordinate officers specifying protective measures to prevent crimes and punish perpetrators in instances of unlawful conduct on the part of the soldiers, the witness concluded in his report. Gotovina's orders 'began yielding results' 12 to 14 days later, Jones said, as could be seen from military reports that no longer mention the involvement of HV personnel in the looting and arson after 18 August 1995.
While reviewing Croatian military documents, Jones noted that on 3 August 1995 – less than 24 hours before Operation Storm began – General Gotovina relieved Colonel Zdilar of his duty; Svilar was the commander of the Operational Zone North, and was replaced by Rahim Ademi, Gotovina's chief of staff. The decision didn't go into reasons for this reshuffle, but Jones concluded that the accused general decided to place a man he trusted to that post to increase the efficiency of command, primarily with regard to obeying orders, discipline in the ranks and prevention of crimes against Serbs and their property.
The defense witness stressed in particular that General Gotovina's priority was to use the troops under his leadership in offensive actions. In other words, units under Gotovina's control would liberate a place and immediately advance, leaving the task of restoring law and order in the rear areas to the military and civilian police. Jones thus confirmed the defense's argument that the Split Military District commander was not responsible for crimes perpetrated in Krajina after Operation Storm.
Asked if he would have taken some additional measures to prevent crimes had he been in Gotovina's place, the US general said he 'probably would not have', adding that he might have emphasized the need to support the people tasked with establishing civilian control in the liberated territory. Concluding his examination-in chief, Jones said that Gotovina had done his job in Operation Storm 'with remarkable success' better than anybody expected or predicted. As today's hearing drew to a close, prosecutor Stefan Waespi began cross-examining the witness.