Home
EXPERT AGAINST EXPERT
US expert on war law Geoffrey Corn drafted a report for Ante Gotovina's defense, heavily criticizing the findings of prosecution expert Harry Konings that Knin was shelled 'without any military purpose'. Corn contends his Dutch colleague has misinterpreted law and military doctrine in a number of places in his report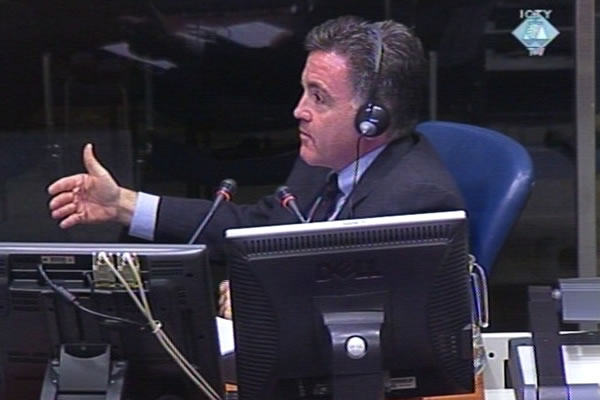 Geoffrey Corn, svjedok odbrane Ante Gotovine
General Ante Gotovina's defense continued with its case today with the evidence of US military expert Geoffrey Corn. He is a military lawyer; as he mentions several times in his CV, he achieved the highest grades and numerous awards in the course of his training. Corn drafted a report for the defense, in which he heavily criticized the findings of prosecution artillery expert, Dutch lieutenant-colonel Harry Konings.
In January 2009, prosecution expert Konings explained in detail the findings in his report, saying that on 4 August 1995 the Croatian Army shelled Knin 'without a clear military purpose; the objective was to cause panic among the civilian population and force the enemy army to surrender and flee'. The indictment against Croatian generals Gotovina, Cermak and Markac lists the shelling of Krajina villages and towns during Operation Storm as one of the elements of the joint criminal enterprise aimed at the permanent expulsion of Serbs from that area.
Today Corn heavily criticized Konings's report, saying he had found a 'significant number of incorrect interpretations of law' and 'instances where the expert relied on false interpretations of military doctrine of tactical support'.
Defense counsel Kehoe told the witness that Dutch lieutenant-colonel had concluded that tactical - artillery - support could not be used in attacks on civilian targets. The witness was momentarily taken aback. 'What civilian targets? That doesn't exist, targets are always military', he said. When the presiding judge asked the witness to say clearly if he disagreed with Konings on terminology or merits, Corn replied he agreed that civilians should not be targeted. However, his Dutch colleague had 'clumsily worded' that conclusion in his report, Corn added. Finally the witness accepted the 'gist of the claim' by the presiding judge that Konings might have used the term 'civilian target' because somebody had unlawfully shelled civilians.
The defense counsel then quoted Konings' words in his report that the fire support system was used only to shell military targets; civilian facilities could be targeted only in self-defense. Corn once again criticized Konings' language, insisting that Konings was obviously not an expert on military law. As Corn put it, this formulation rules out the 'principle of proportionality' according to which a commander assess if the anticipated military advantages would exceed possible civilian losses, that is 'collateral damage'.
Both experts agree that the artillery was the ideal weapon of choice for achieving effects other than destruction. The defense expert however criticized his colleague from the prosecution team because in his expert report he listed as 'other effects' only the spreading of panic among civilians, and never mentioned 'harassment, prevention and neutralization', which are, according to Corn, 'classical artillery missions'.
As the hearing today drew to a close, prosecutor Russo began cross-examining Geoffrey Corn.