Home
CLEARING UP AFTER OPERATION STORM
Testifying as Gotovina's defense witness, former assistant police minister Zdravko Zidovec has denied the prosecution's allegation that the clear-up operations after Operation Storm actually served to cover up the crimes. The army didn't take part in the clear-up, he claims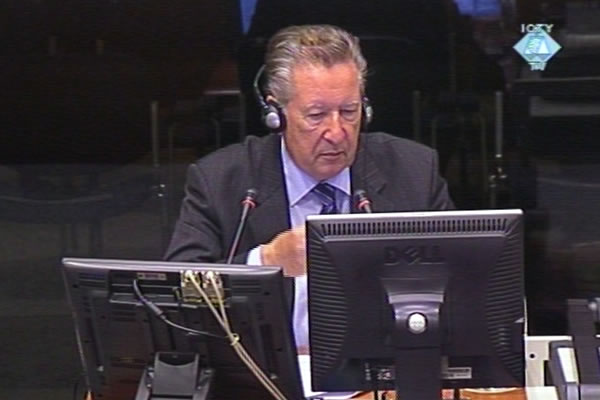 Zdravko Židovec, svjedok odbrane Ante Gotovine
As his defense case continued, General Ante Gotovina today called former Croatian assistant police minister Zdravko Zidovec. During and after Operation Storm he was in charge of the Civilian Protection Service and was in the operational command dealing with the clear-up. He gave a statement about his involvement in the events to the Office of the Prosecutor in 2007. The prosecution then decided not to call him. The statement was tendered into evidence by the defence today.
Describing the procedure that was followed in the clear-up operations, Zidovec said that the Civilian Protection teams always included crime scene technicians who were there to determine the cause of death of any bodies found in the liberated area. If there was no evidence of violent death, the bodies were buried. If there was any indication of foul play, the case was handed over to the civilian crime police. The same procedure was followed when the fire-fighting teams determined that a house had been set on fire deliberately, and not in combat. The defence is now challenging the prosecution's case that the 'clear-up operations' actually served to cover up the crimes against Serb civilians that generals Gotovina, Cermak and Markac are charged with.
The other element of the clear-up effort involved going to abandoned houses in Krajina, to check if there were any bodies there and to remove any food left in the freezers and refrigerators to prevent contagious diseases. If a house was locked, the teams would break into it. Some 48,000 abandoned houses were dealt with in this way, Zidovec says. Civilian Protection teams wore 'grayish-greenish-brownish' uniforms. The patch was orange with a blue triangle.
Apart from the civilian protection, the witness was also in charge of setting up reception centers for Serb and Croat civilians. The centers were there to provide assistance to the people, mostly elderly, Zidovec claimed and denied that the people were pressured to leave Croatia. He drew a distinction between 'reception' and 'collection' centers, saying that there may have been prisoners of war in the latter. POWs were questioned in those centers, he said.
In his examination-in-chief, the witness claimed that the army had not taken part in the clear-up operation, apart from providing limited logistic support. The prosecutor showed him a document from the Split Military District dated 1 August 1995, which says that the HV personnel should start clearing up the area together with the police, or on their own, 'if the clear-up operation can be conducted quickly'. The witness claims he has never seen the document before.