Home
'CRIMINAL AND KILLER' DEFENDING GOTOVINA
In his evidence in the defense of Ante Gotovina, former member of the 15th Home Guard Regiment Veselko Bilic admitted he had committed a number of crimes against Serb civilians after Operation Storm, including the murder of an old woman. In Bilic's words, he did it 'on his own'; 'criminals and murderers' like him should be in the dock instead of 'the innocent generals', he added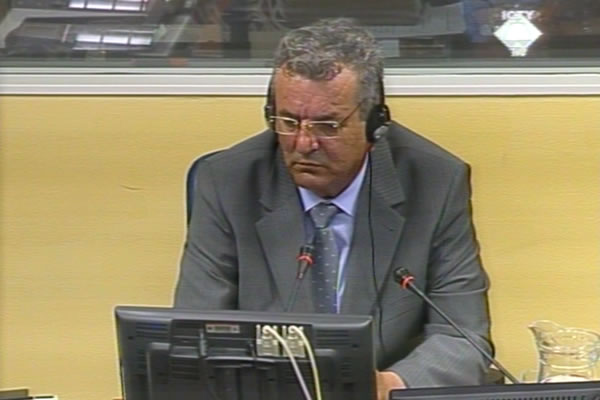 Veselko Bilić, svjedok odbrane Ante Gotovine
Yesterday Gotovina's defence called evidence about the response of the Croatian judiciary to the murder of Serb civilians in the villages of Gosici and Varivode in Krajina. Today his team continued with its efforts to prove that war crimes were prosecuted after Operation Storm. The defense called Veselko Bilic, former member of the 15th Home Guard Regiment. He was convicted by a Croatian court for the murder of an old Serb woman and was sentenced to seven and a half years in prison.
Describing the crime, Bilic recounted a rather unconvincing story. He contends that he went to the village of Pavici to find a man he described as 'Chetnik Zdravcina'; Bilic wanted revenge because Zdravcina had slapped his father before the war. A couple of days earlier, Bilic said, he had seen Zdravcina talking to Dara Milosevic, a villager of Pavici. That's why Bilic decided to look for Zdravcina in Dara Milosevic's house. In early September 1995, Bilic came to Pavici and entered the woman's house. Bilic thought he heard her talking to the man he was looking for. 'Who are you talking to, you Chetnik woman', Bilic yelled at the old woman. 'To the devil with you, you Ustasha, get away from my house', she said to Bilic. After that, he 'secondarily', the term he used, meaning immediately fired a shot and killed the old lady.
Soon afterwards, Bilic was arrested by the military police. They turned him over to the civilian authorities. Bilic was sentenced to eight years in prison. His sentence was commuted to seven and half years on appeal. Bilic served only three and a half years because, as he explained, President Tudjman pardoned him twice, each time taking two years off his sentence. Bilic has recently been sentenced to a year in prison for sexually harassing an old Serb woman in the village of Gorica in September 1995.
Since the beginning of the trial of generals Gotovina, Cermak and Markac, the prosecution has argued the Croatian Army and in particular the Home Guard units took in people with hefty criminal records; they knew those people were capable of committing crimes in the territory liberated after Operation Storm. Prosecutor Waespi asked Bilic if it was true that before Operation Storm began he had already clocked eight convictions for aggravated robbery, destruction of property and brawling, and had served five or six years in prison. Bilic gritted out that it was true adding that he 'suppressed those propensities deep inside'.
The witness confirmed the defense claim that he was not a member of the Croatian Army at the time he committed the crimes because he was demobilized on 18 August 1995. The prosecution now showed him a statement he gave to the defense about 10 days ago. In it, Bilic says that after his demobilization he kept his arms 'and carried out his tasks as best he could'. Bilic explained that he was guarding a water tower and two churches near Kistanje and capturing 'the remaining Chetnik groups'. His replies indicate that he issued the tasks to himself.
At the end of his evidence, Bilic answered questions by presiding judge, stressing that he 'committed all the crimes on his own'. The military structures didn't know about them. The Tribunal was wrong to try the three generals, he added. 'You have detained innocent people, it's criminals and murderers like me that should be in the dock, and not our generals', Bilic concluded.