Home
A THOUSAND QUESTIONS ABOUT A THOUSAND CRIMINAL REPORTS
In her cross-examination of Zadar public prosecutor Ivan Galovic, the prosecutor tried to prove that the thousand criminal reports filed after Operation Storm in Krajina included a substantial number of criminal reports that had nothing to do with the crimes generals Gotovina, Cermak and Markac are charged with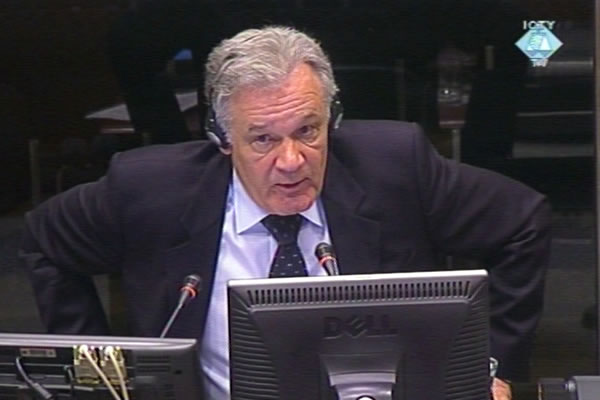 Ivan Galović, svjedok odbrane Ante Gotovine
In the first part of her cross-examination of district public prosecutor from Zadar Ivan Galovic today, prosecutor Mahindaratne contested his claim that the Croatian judiciary had vigorously prosecuted crimes against Krajina Serbs after Operation Storm. Generals Gotovina, Cermak and Markac are charged with those crimes. Yesterday, the defense tendered into evidence several reports Galovic sent to the Justice Ministry. In them Galovic says that in 1995 and 1996 about a thousand criminal reports were filed in the Zadar county against perpetrators of crimes in Krajina after Operation Storm.
The prosecutor however contended that a good part of the criminal reports had nothing to do with war crimes against Krajina Serbs, arguing that Galovic's reports were 'mere statistics' uncorroborated by specific data. In other words, documents with the witness's signature didn't specify the names of the accused and individual crimes they were charged with. The Zadar prosecutor admitted that all the crimes in Krajina after 7 August 1995 were listed among the thousand criminal reports, regardless of the ethnic background of the victims. According to him, the only criterion for the inclusion in the report was for the crimes to have been perpetrated in the liberated area.
As the prosecution contends, a report Galovic sent to the public prosecutor's office in Zagreb in 2006 shows what was put in the reports about the prosecution of crimes after Operation Storm. Galovic's report lists forgery, false contracts and crimes committed before August 1995. The most distinct example, in the prosecution's opinion, is the murder of an old Serb lady in the village of Karin Donji. The old woman died of a hand grenade activated by her husband. 'Murder is murder,' Galovic said, regardless of the ethnic background.
Although the Zadar prosecutor lost his most important case in court, he still believed that he was right when he indicted eight former HV members for the murder of 16 Serb civilians in the villages of Varivode and Gosici. Galovic is leery of the story about the accused making confessions because of police brutality; however he admitted that their confessions didn't match the ballistics at the scene of crime and the eye witness accounts. Galovic was unhappy both with the acquittal of all the accused by the Zadar court and the decision of the Sibenik prosecutor Zeljko Zganjer to drop the charges before the retrial.
The trial of generals Ante Gotovina, Ivan Cermak and Mladen Markac for crimes against Serbs during and after Operation Storm continues on Tuesday.