Home
MOTION FOR ACQUITTAL OF CROATIAN GENERALS REJECTED AT HALF-TIME
The Trial Chamber has rejected the defense motion for the acquittal of generals Gotovina, Cermak and Markac at the half-time of the trial on charges of crimes during and after Operation Storm. Taking the prosecution evidence 'in the best light', the judges have concluded that there was a joint criminal enterprise aimed at the permanent elimination of Serbs from Krajina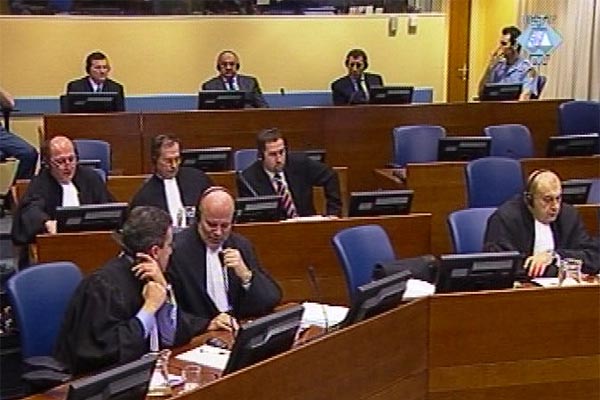 Ante Gotovina, Ivan Cermak and Mladen Markac in the courtroom
Today the Trial Chamber dismissed the defense motion for the acquittal of generals Gotovina, Cermak and Markac for lack of evidence after the prosecution rested its case. The motion was rejected for all nine counts in the indictment charging the accused with persecution, deportation, forcible transfer of Serb civilians, looting and wanton destruction of abandoned Serb property, murder, inhumane acts and cruel treatment during and after Operation Storm in the summer of 1995.
In the introductory remarks, the presiding judge Orie notes that the prosecution has adduced sufficient evidence to make the Trial Chamber conclude, if it decided to accept it, that there were systematic and widespread attacks against Serb civilians in Krajina during and after Operation Storm. This attack included murder, intimidation and abuse of remaining Serbs, looting and destruction of their property. As it was indicated today, based on the evidence provided, it could be ruled that those crimes were perpetrated within the joint criminal enterprise aimed at the permanent elimination of Serbs from Krajina.
According to the evidence, the head of the joint criminal enterprise was the then Croatian president Franjo Tudjman and all three accused took part in it. Listing the evidence that might corroborate this conclusion, Judge Orie mentioned the audio recording and the transcript from the Brijuni meeting on 31 July 1995. Addressing the high-ranking military and police officers, Tudjman said it was important 'that civilians go first as the army will then follow them'. Two of the three accused, Ante Gotovina and Mladen Markac, took active part in that meeting. According to the evidence called by the prosecution, Ivan Cermak 'joined' the joint criminal enterprise a little bit later, on 5 August 1995 when Tudjman personally appointed him the commander of the Knin Garrison.
The prosecution offered enough evidence of the responsibility of the three generals for the crimes against Serbs in Krajina, the judges concluded, either by planning, ordering or perpetrating them or by consciously accepting the risk that the crimes might be a natural and foreseeable consequence of their actions. The evidence called by the prosecution, according to the Trial Chamber's decision, shows that generals Ante Gotovina and Mladen Markac commanded the HV and special police units that perpetrated crimes during and after Operation Storm and that Ivan Cermak had jurisdiction over some of those units after 5 August 1995.
The judges noted that they looked at the prosecution evidence 'in the best light', as Rule 98
bis
requires, adding that their decision did not in any way prejudice the judgment that will be handed down.
Since the motion to drop the charges was not granted, all three defense teams 'will have to call evidence', as the presiding judge said, to refute the prosecution case. The defense of general Ante Gotovina will open its case first, on 28 May 2009.