Home
DANISH OBSERVER: OBJECTIVE OF OPERATION STORM WAS KRAJINA WITHOUT SERBS
Explaining why he wrote in the diary he kept during Operation Storm that he was 'disgusted' by what the Croatian Army was doing, former European monitor from Denmark Stig Marker Hansen said he thought at the time that the objective of the Croatian attack was to 'take the RSK territory once it was empty of the Serb population'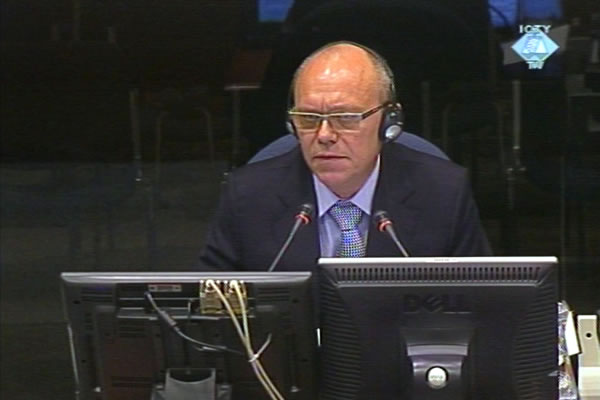 Stig Marker Hansen, svjedok na suđenju Gotovini, Čermaku i Markaču
In the three statements he has given to the OTP investigators since December 1995, former member of the European Community Monitoring Mission in Croatia Stig Marker Hansen described what he had seen in Knin during and after Operation Storm. Like dozens of other former international observers who have given evidence at the trial of generals Gotovina, Cermak and Markac before him, Hansen says that Operation Storm began with intense shelling of Knin; many crimes were committed when the Croatian Army entered the town.
According to the witness, on 4 August 1995, shells were hitting civilian areas, including the buildings near the place where he lived. The prosecutor showed a diary kept by the Danish observer during Operation Storm. In it he wrote: 'I simply cannot accept the fact that people are being expelled. I can understand the Croats but I am disgusted with their methods; they are violating every single provision of international law'. Hansen and his colleagues thought at the time that the objective of the attack launched by the Croatian armed forces was 'to take the RSK territory but once it was empty of the Serb population'. The shells didn't inflict 'any structural damage' to civilian buildings, the witness said; the impacts did cause fear and panic among the civilians.
When the Croatian Army entered Knin, Hansen claims, there was systematic looting of houses and apartments. Although he and other international observers were prohibited from leaving the UN base in Knin until 7 August 1995, the witness was able to observe soldiers from the HV 4th Guards Brigade bring looted goods – mainly TV sets and household appliances – to the parking lot near the UN headquarters. From there they took the loot away in the direction of Drnis. When Hansen was permitted to leave the base, he went to his apartment which had been looted, like many neighboring flats. The place was ransacked, he said, and his camera, loudspeakers and disks that he had not taken with him to the base were missing.
In the statement he gave to the OTP investigators the witness said that he and other European observers regularly reported 'lawlessness and disorder' in the Krajina Sector South to General Ivan Cermak. At a meeting in September 1995 they told this to Ante Gotovina, Split Military District commander. As the examination-in-chief continues, Hansen will be asked tomorrow as about his contacts with two of the accused, Gotovina and Cermak, who are on trial together with General Mladen Markac for crimes committed by the Croatian Army and police during and after Operation Storm.