Home
SESELJ: CROATIA ORDERED OVCARA MASSACRE
Croatia 'ordered' the massacre at Ovcara from the JNA Security Administration to 'conceal the crimes against Serbs and speed up the process of its international recognition', Vojislav Seselj contends in his latest 'theory' concerning the crime in which over 200 prisoners of war were taken from the Vukovar hospital on 21 November 1991 and later executed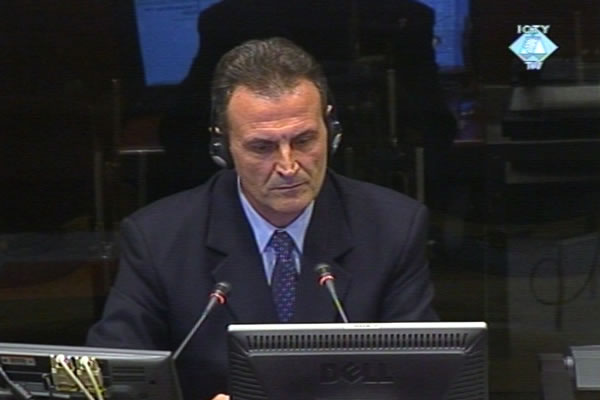 Ljubisa Vukasinovic, witness in the Vojislav Seselj trial
Retired VJ colonel Ljubisa Vukasinovic maintained today at the trial of Vojislav Seselj that the Territorial Defense members at Ovcara abused prisoners few hours before they were executed at nearby Grabovo. As security officer in the JNA Guards Brigade, on 20 November 1991 Vukasinovic was in charge of transferring the prisoners from the Vukovar Hospital to the Ovcara farm.
On that day, the witness recounted, he saw 'pools of blood, signs of physical abuse on the prisoners and fear on their faces' in the hangar. At Ovcara, the witness saw Milan Lancuzanin Kameni, commander of the volunteer unit Leva Supoderica. As alleged in the indictment, the SRS volunteers were under Kameni's command. The witness stressed he 'did not distinguish' between the volunteers and the Territorial Defense based on their party affiliation. They were all part of the Territorial Defense as far as he was concerned. According to Vukasinovic, the Territorial Defense members 'kept attacking the buses with prisoners' the whole day in an effort to take them over from the army. That same night members of the local Territorial Defense executed more than 200 prisoners from the Vukovar Hospital at Ovcara.
In his cross-examination, the accused Vojislav Seselj put the finishing touches on his conspiracy theory about the Ovcara massacre. According to Seselj, the massacre was 'ordered by Croatia' in an effort to 'ensure international recognition of Croatia as a state' at a time when it was 'in question because of the crimes against Serbs in Gospic'. The Ovcara massacre, Seselj said, 'was ordered by Croatia from General Aca Vasiljevic'. Vasiljevic was 'promised that the detained JNA intelligence officers will be freed' as a quid pro quo. According to Seselj, General Vasiljevic and the hospital director Vesna Bosanac 'made a list of 200 persons who were most likely candidates for the sacrifice'. After the media reports about the Ovcara crime, pinning the blame on the Serbs, the process of the 'international recognition of the Croatian state was speeded up' and Vasiljevic 'flew together with Bosanac to Zagreb where he personally took his officers from detention'.
Although the witness repeatedly expressed his respect for the accused, he couldn't agree with that theory fully. 'This may be a viable assessment, but I cannot say either yes or no', the witness said.
In the past years Vukasinovic cooperated with the OTP and agreed to give testimony for the prosecution, but then changed his mind, agreeing with Seselj's legal team to testify for the defense. Vukasinovic finally came to The Hague after he received a subpoena issued by the Trial Chamber.
The trial of Vojislav Seselj continues next week. Sulejman Tihic is expected to give evidence. Tihic - who was detained by Serb forces in Bosanski Samac – is now the president of the Party of Democratic Action, SDA.