Home
PROSECUTOR ACCUSES PROSECUTION WITNESS OF LYING TO COURT
The examination-in chief of Aleksandar Stefanovic, first secretary-general of the Serbian Radical Party, revealed that Stefanovic first mentioned him being allegedly pressured by Zoran Djindjic in May 2008. It is roughly one month after accused Seselj disclosed his theory of a 'pact' between the late prime minister and the former chief prosecutor against him. The judge warned the witness that he might be charged with perjury; in that case this would not be his last appearance before the Tribunal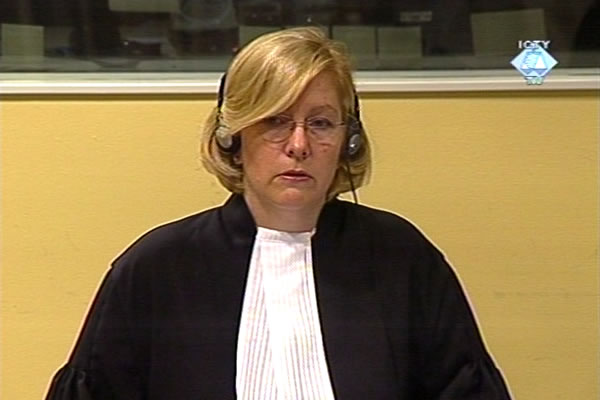 Christine Dahl, prosecutor in the Seselj case
The cross-examination of the first secretary-general of the Serbian Radical Party, Aleksandar Stefanovic, proceeded in perfect harmony between the witness and the accused Vojislav Seselj. Former party colleagues discussed a number of issues – from the situation on the Serbian political scene to global geopolitical issues – in their pleasant conversation in the courtroom. They did focus on one of Seselj's favorite theories: that in February 2003 Zoran Djindjic 'persuaded' the then chief prosecutor Carla Del Ponte to issue an indictment against him. Stefanovic yesterday contended that Djindjic tried to convince him to discredit Seselj in his statements to the OTP investigators at the same time. So, the witness agreed to do it, because he was 'under pressure'.
The witness agreed with the accused that Djidnjic's intention was to 'eliminate' the SRS from the Serbian political scene by sending Seselj to The Hague. Repeating basically what the accused already talked about in the courtroom, Stefanovic said that it was enough to eliminate Seselj as other SRS party officials such as Tomislav Nikolic and Aleksandar Vucic were by then already 'recruited' by Western intelligence services.
Prosecutor Dahl in her re-examination today brought up several details about the timeline of the witness's contacts with the prosecution showing that they went on from 12 February 2003 when the witness signed his first statement. The contacts ended on 16 May 2008 when the witness informed the office of the prosecutor in a letter that he wanted to change sides and testify for the defense. In the letter, Stefanovic mentioned for the first time the story of Djindjic's allegedly exerted pressure on him. This was a month after Seselj first came up with the theory about a 'pact' between the late prime minister and the former chief prosecutor.
The witness replied that he told prosecutor Dahl about Djindjic's pressure at their meeting in February 2007. The prosecutor said it was 'a lie' putting it to the witness that the witness told her at the meeting he was under pressure from Seselj's bodyguard. This in fact prompted him to ask for protective measures for his testimony. Stefanovic then asked to be given the minutes from that meetings; he said he was 'excited now' and couldn't remember what he had said at the time. The prosecutor observed that 'other persons' attended the February 2007 meeting, implying that she had witnesses to corroborate her claims if the judges decided to charge Stefanovic with perjury. The presiding judge today warned the witness explicitly that a perjury charge was a possibility. This might not be Stefanovic's last appearance before the Tribunal in The Hague.
The trial of Vojislav Seselj continued with the evidence of a protected witness testifying under the pseudonym VS-1068 about Chetnik crimes in Mostar.