Home
WHY REPORT CRIMES TO THOSE WHO COMMITTED THEM?
When Gotovina's defense counsel asked him why he didn't report the arson and the looting to the HV Military Police, former EU monitor Soren Liborius replied that he saw no reason to do that, when military police were those who destroyed the abandoned Serb houses. As Liborius put it, their commander had to be 'blind' not to know about those crimes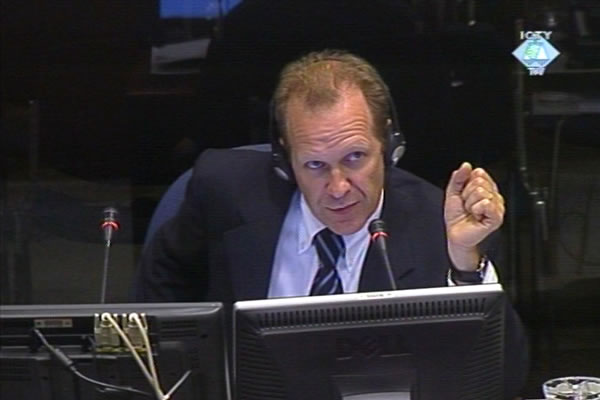 Soren Liborius, witness in the Gotovina case
As his cross-examination drew to a close, Ante Gotovina's defense counsel tried to prove that prosecution witness Soren Liborius, former member of the EU monitoring mission, and his colleagues didn't report the looting and burning of abandoned Serb houses to the right people. Those incidents were rife throughout Krajina after Operation Storm in August 1995 and were recorded by the monitors. The witness repeated today what he already had said in his examination-in chief: that he reported the crimes on several occasions to the civilian police and to Petar Pasic, the mayor of Knin.
When defense counsel Misetic asked him why he failed to report the destruction of houses to the military police, the witness responded with a question of his own. 'How could I report arson to the people who were burning the houses?', he asked. The defense counsel went on to ask the witness how the HV Military Police commander was supposed to respond if he didn't know of the crimes. Liborius replied tersely that the commander would have been 'blind' not to have seen what his soldiers were doing.
After Gotovina's defense counsel, the witness was examined by the defense of General Ivan Cermak. In his examination-in chief the witness called Cermak 'the military governor of Knin' claiming that he had authority both over the army and the police, in the entire Krajina. In his attempt to prove his point, that his client was mischaracterized, defense counsel Kay once again brought up the order of Croatian president Franjo Tudjman dated 5 August 1995 where he appoints Cermak 'commander of the Knin Garrison'. Since the witness used the wrong title to describe Cermak, the defense counsel concluded, he was wrong in his assessment of Cermak's powers.
Liborius explained that he didn't know what Cermak's official position was, but in practice, when Cermak met with European monitors he didn't protest when he was addressed as 'military governor'. Liborius saw for himself the authority Cermak had over the Croatian security forces in August 1995, when, as he recounted, he would be allowed to pass through joint military-police check points only after Cermak intervened. That was why he wrote down Cermak's phone number on the first page of his notebook, the witness claimed.
Cermak's defense counsel will complete the cross-examination later because the witness must leave The Hague today on urgent business. He will appear before the court once again on 6 November 2008.