Home
GOTOVINA'S DEFENSE: 'IT WAS ANARCHY'
In his reports, Soren Liborius, former EU monitor, described the situation in Krajina in the aftermath of Operation Storm as 'anarchy'. Ante Gotovina's defense counsel tried to turn this to his client's favor, claiming the term 'anarchy' implied 'lack of governmental control'. The witness replied that what he meant was 'lack of normalcy' coupled with widespread looting and destruction; that, he said, didn't exclude government's involvement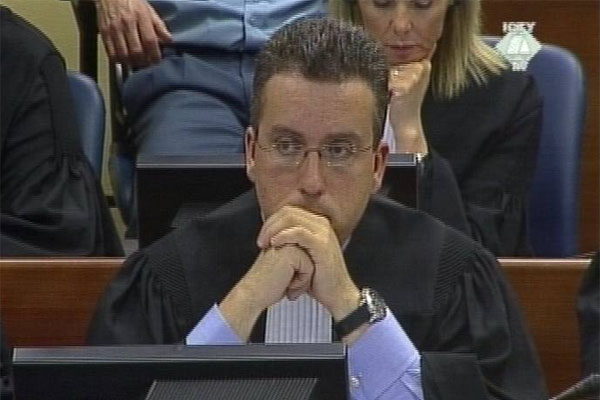 Luka Misetic, defense attorney for Ante Gotovina
The cross-examination of Soren Liborius, former EU monitor in the Sector South from Denmark, continued today. General Ante Gotovina's defense counsel tried to contest the witness's estimate that some 60 to 80 percent of houses in Krajina were either totally or partially destroyed. The defense counsel noted that several villages listed as destroyed in the witness's daily reports from August 1995 actually had a Croat majority according to the 1991 census.
Asked if it meant that Croatian soldiers burned and destroyed houses of their fellow Croats, Liborius replied that he listed all the villages that in his view had been burned down after Operation Storm; he didn't pay any attention to their ethnic structure. 'I never said that all of the 60 to 80 percent of burned villages had a Serb majority or that only Croats burned the villages down', the witness clarified. As he went on to explain, it was possible that Serbs moved into Croat houses in the four years while the Republic of Serbian Krajina was in existence, and that they were later burned down when the territory was liberated.
The reason behind the destruction of houses in Krajina, according to the witness, was the intention of the Croatian authorities to prevent Serbs from returning to their homes. In one of his reports, Liborius wrote that the looting and burning foiled to a large extent the government's plans to bring back the Croats expelled after 1991; this led the defense counsel to note that this contradicted the claim that the authorities were behind the destruction of houses. It was possible that the authorities first organized the destruction but when it got out of hand, they saw it as a problem, Liborius explained.
In a number of his reports, the witness described the situation in Krajina as 'anarchy'; defense counsel Misetic tried to turn this claim to his favor. The term 'anarchy' implies 'lack of government control' in an area, he suggested. Liborius replied that what he meant was 'lack of normalcy' and widespread looting and destruction: this did not rule out governmental involvement.
Misetic will complete his cross-examination tomorrow. The witness will then be cross-examined by the defense teams of generals Ivan Cermak and Mladen Markac.