Home
DEAD UNDER POLICE PROTECTION
Former UN staff member in Knin, Swedish police officer Laila Malm claims that the Croatian police repeatedly prevented her from visiting the Orthodox graveyard in Gracac in September 1995. According to her, every day new graves were dug there. Malm made no comments when Gotovina's defense counsel put it to her that access to the graveyard was prohibited to prevent looting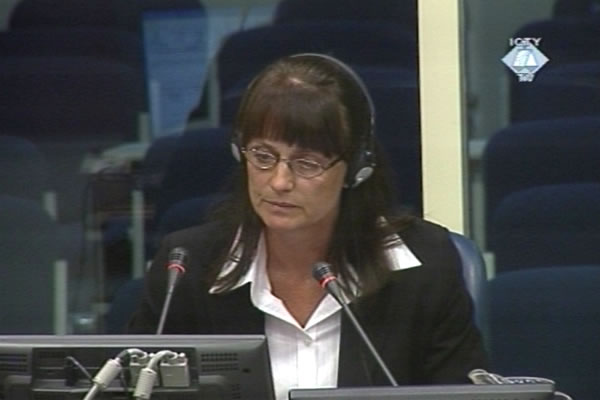 Laila Malm, witness in the Gotovina trial
A police woman from Sweden, Laila Malm testifies at the trial of Croatian generals Ante Gotovina, Ivan Cermak and Mladen Markac describing the incidents she reported after the Operation Storm. In the summer of 1995 she was a member of the UN Civpol mission in the Krajina Sector South. In her testimony Malm confirmed the contents of her statements given in 1997 and 2008 in which she said what she knew about killing, looting and burning down of houses.
During her tour of the Gracac area in late August 1995, the witness saw looting of abandoned Serb houses in the village of Ivosevica. In her field report that day she wrote that persons in military uniforms were loading the looted items onto 'at least one truck'. She saw similar incidents in other villages too, she contended in the written statement she have to the OTP investigators. She and her Civpol colleagues reported every incident to the Croatian police in Gracac, to no avail. The looters, she explained, passed through the police check points easily; the rare patrols that passed through the villages were not enough to prevent the looting.
Malm saw the bodies of Serbs who had been killed there in several places – such as the villages of Palanka, Zrmanja and Brgud. Dusan Brkic from the village of Palanka was among the victims. He was killed by a shell and Gotovina's defense counsel used this fact as evidence that Brkic was killed in combat.
In September 1995, Malm and her colleague from the Civpol patrol, Luis Martins, tried to enter the Orthodox graveyard in Gracac several times. Each time, they were stopped by the Croatian police. In her statement to the OTP, the witness noted she got the impression that every time they tried to go in, there were new graves in the graveyard. It looked as if more than one person was buried in some of the graves. In the cross-examination, Gotovina's defense counsel implied that the police were posted around the graveyard in order to prevent looting that was widespread in that area. The witness didn't deny or confirm this allegation.
When he questioned the witness about the persons looting the Serb houses in military uniforms, defense counsel Kehoe noted that thousands of Croatian soldiers had been demobilized at that time, implying that they might have been among the perpetrators. Moreover, he pointed out, civilians often wore military uniforms. Malm answered that she knew nothing about that.