Home
CERMAK AND MARKAC RENOUNCE MAJOR JURIC
The defense counsel of Croatian generals Ivan Cermak and Mladen Markac today tried to prove that Major Juric was not their clients' subordinate. According to prosecution witness Berikoff, in August 1995 Major Juric wanted to prevent 'Chetniks' – all Serbs – from returning to Krajina. The defense counsel claim that Major Juric was under the command of the HV Military Police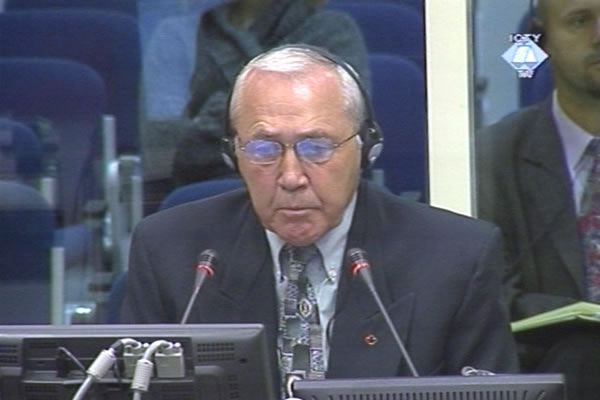 Philip Roy Berikoff, witness in the Gotovina trial
As Canadian military intelligence officer Philip Roy Berikoff continued his evidence today, he was examined by the defense counsel of Ivan Cermak and Mladen Markac. Together with Ante Gotovina, they are on trial for crimes committed during and after Operation Storm. The looting and burning of abandoned Serb houses are among the charges against them. As Berikoff said in his testimony, this was perpetrated by Croatian soldiers and police officers throughout Krajina.
In his examination-in chief, the witness said that the destruction of Serb houses was deliberate and planned, and illustrated this with the words of Major Juric, a special police commander. A few days after Operation Storm, he told Berikoff that the objective of the 'clean-up operation' was to prevent 'the Chetniks from ever coming back to Krajina'. Major Juric meant all Serbs when he used the term 'Chetniks'. In the cross-examination today, defense counsel Higgins challenged the witness's claim that Major Juric was her client's subordinate. Ivan Cermak was the commander of the Knin garrison.
The defense showed a document dated 2 August 1995, where General Mate Lausic, Military Police commander, orders Major Juric to 'assist in the exercise of command' over the 72nd and 73rd Military Police battalion from Split. Berikoff agreed with the defense claim that on paper, Juric was subordinate to Lausic and that there are no documents to support the claim that Juric was Cermak's subordinate or that Juric reported to him. Berikoff did add that the situation in the field 'was different'.
In order to rule out any links between Mladen Markac, former special police commander, and Major Juric, defense counsel Tomislav Kuzmanovic first implied that the Military Police had its special units which shouldn't be confused with the MUP Special Police where the controversial major had no authority. The Canadian intelligence officer allowed this might be true, but noted that in August 1995 Major Juric appeared to be in command of all the police officers in the field: both the military police and the MUP units.
Berikoff completed his evidence after three days in court. The prosecution will call its next witness tomorrow.