Home
ONE PLUME OF SMOKE FROM SEVEN DIFFERENT ANGLES
At the beginning of the Operation Storm, on 4 August 1995, a single tall and thick plume of smoke was shot from seven different angles by the cameraman and director working for Zastava Film, a production company of the former JNA and VJ, to create an impression of seven smoke clouds in different locations in Knin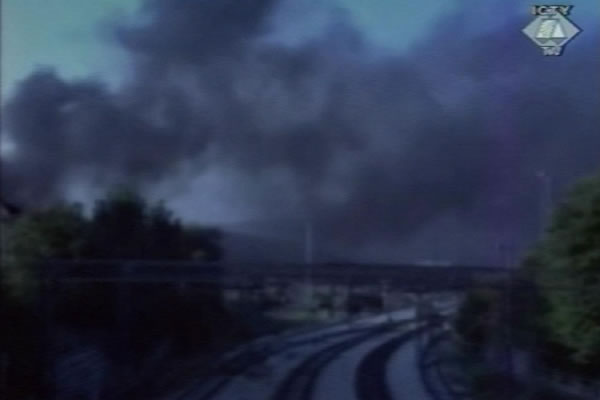 The footage of the shelling of Knin that was filmed on August 4th 1995 by the cameraman of Zastava film
Croatian general Ante Gotovina's defense managed to a substantial extent to contest the evidence given by protected witness '6' on the fierce shelling of Knin on 4 August 1995 in his cross-examination. He contends the shelling was not directed at military targets: the objective was to cause panic among the population, making it flee.
In his examination-in chief yesterday, the prosecutor used footage showing the shelling of Knin filmed on 4 August 1995 by the cameraman of the Zastava film studio to corroborate those claims. VJ colonel Milivoje Nestorovic used this footage in 1996 to make a documentary,
Oj Krajino
.
The defense noted today that the colonel who directed the movie added sound effects to the original soundtrack of the footage of the shelling of Knin. Pictures of people running across the street were accompanied by the deafening sound of the siren. The defense also managed to show that the military cameraman and his director were not creative only in editing the footage they filmed. Their creativity was evident in the way they actually shot it. Analyzing the original footage, the defense concluded that a high, thick plume of black smoke was recorded from seven different angles in order to create an impression of seven different smoke clouds over different parts of Knin. The plume of smoke they recorded was coming from the screw factory TVIK. According to the defense, it was a legitimate military target.
The defense analysis of the Zastava Film footage showed that some of the civilian buildings hit by shells were located in the immediate proximity of the Army Hall, the SVK headquarters and the Senjak barracks.
Judge Orie asked the witness if he was prepared to alter his testimony about the shelling not being directed at military targets. The witness answered that the Zastava film cameraman didn't record all the shell impacts. Apart from the buildings that are seen being hit in the footage, other civilian buildings were shelled, including his house and the neighboring building.
The witness was cross-examined by the defense teams of Ivan Cermak and Mladen Markac in closed session in order not to reveal his identity. Markac's defense counsel Goran Mikulicic asked the witness only two questions in open session. When Mikulicic asked him what he took with him when he left Knin in the afternoon of 4 August 1995, the witness replied 'a little bit of wine and some brandy'. He took nothing else thinking he would return in a day or two. The witness went to a village 40 to 50 km from Knin where his parents lived. That evening they roasted some lamb. Mikulicic was surprised that they did this 'amidst the shelling and war' but the witness said that it was 'the best thing we could do' at the time.