Home
FIRST PROSECUTION WITNESS TESTIFIES IN OPERATION STORM TRIAL
In the period covered by the indictment against Gotovina, Cermak and Markac, protected witness 136 was a field interpreter in the UN headquarters in Knin. This was where evacuation lists were made up two months before Operation Storm. According to the defense, this caused fear among the civilian population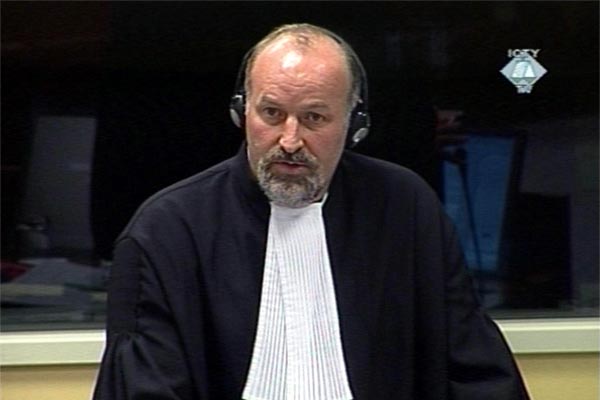 Stefan Waespi, member of the prosecution team in the Gotovina case
The prosecution opened its case today at the trial of three Croatian generals charged with crimes against the Serbian civilians during Operation Storm and its aftermath in the summer of 1995. The first witness to give evidence was a protected witness, testifying under pseudonym 136. At the time relevant for the indictment, she was a 'field interpreter' in the UN Knin headquarters. Two statements the witness gave to the OTP investigators in 1996 and 2007 were tendered into evidence together with several documents and reports on the killings and other incidents from the Operation Storm period.
In her brief examination-in chief, the witness said that at dawn on 4 August 1995, she left the house where she lived. She 'ran as the shells fell all around her' past an apartment building and an outpatient clinic that had been hit by shells. She finally arrived at the UN compound in Knin, located in the 'Southern barracks'. A week later, she agreed to join the military observers and the UN civilian police patrolling Knin and surrounding villages. She visited the Knin cemetery and made lists of persons buried there in freshly dug graves, copying names of the deceased from the crosses or putting down just the NN mark if they were unidentified.
More details about what was in her statement and in the documents admitted into evidence could be seen from the cross-examination by Greg Kehoe, Ante Gotovina's defense counsel. Noting that the witness stated that her UN superiors had asked her two months before Operation Storm if she wanted to be put on the evacuation list, Kehoe implied that this information 'spread around town', causing fear among the citizens of Knin. At that time there were 'many elements that caused fear', the witness replied, giving as examples the incidents along the demarcation line and the shelling of villages near Knin.
Kehoe went on to imply that the Serbian Army of Krajina headquarters, a military depot, the post office and the parliament building were located near the apartment building and the outpatient clinic that were hit by shells as the witness ran by on 4 August 1995, on her way to the UN compound. The clinic she testified about was at that time used for military purposes, he alleged.
Ante Gotovina's defense counsel in particular tried to contest the authenticity of parts of witness' statement referring to specific killings. According to Kehoe, the body of a young soldier she had seen on 16 August 1995 in the village of Vrdnik belonged to Cedomir Milos. That man is alive. The witness was adamant in her disagreement, claiming that the body she saw was already decomposing.
The cross-examination of the protected witness 136 continues tomorrow.