Home
DEFENSE: CERMAK DID NOT ISSUE ORDERS – HE COORDINATED THINGS
In his cross-examination of the prosecution witness Edward Flynn the defense counsel of Ivan Cermak noted that, as the commander of the 'Knin Garrison', Cermak was authorized to 'coordinate' civil and military police and civilian authorities and not to issue them orders. Cermak also had the power to ensure functioning of public utilities and in particular to 'help the UN'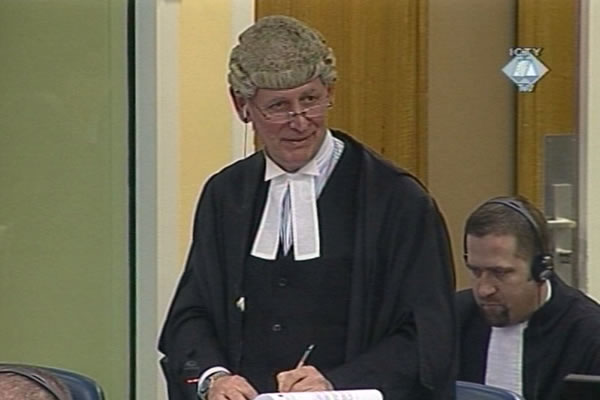 Steven Kay, defense attorney for Ivan Cermak
Steven Kay, the defense counsel of general Ivan Cermak, in his cross-examination of Edward Flynn today did not deny the crimes –arson, destruction, looting and murder – Flynn witnessed from 7 August to 17 September 1995. During that period, Flynn was the head of the UN Human Rights Action Team. His mission was to record human rights violations in the Knin Krajina after Operation Storm and to report to his superiors in the UN.
In the cross-examination, Cermak's defense counsel himself tendered into evidence several documents from the Croatian Ministry of Interior confirming there were cases of arson and looting but not murder, as Flynn noted. The most interesting document was by far the order issued by Josko Moric, deputy interior minister, on 18 August 1995, calling on both the civilian and military police to put a stop to arson and looting of houses by 'persons in HV uniforms', which were a daily occurrence. The order was proactive, 'directed at the future', as judge Orie remarked, because it stated that 'the cases of arson and illegal taking of other persons' property that have occurred to date will not be investigated operatively' – this means the perpetrators would not be prosecuted and punished.
The defense wanted to show that the civilian and military police received orders from Zagreb and that Cermak couldn't be responsible for their failures in the Knin Krajina that Flynn brought to his attention in August and September 1995. The defense counsel went on to show Cermak's letter of appointment, demonstrating that he was appointed 'commander of the Knin garrison', and not a 'military governor' of the Knin Krajina which is how Flynn described Cermak's position in his examination-in chief. According to his defense, Cermak was authorized to 'coordinate the civilian and military police and civilian authorities' and not to give them orders, as Flynn stated yesterday. Cermak was there to ensure the functioning of public utilities and, as Kay insisted, to 'help the UN'.
[IMAGE]3339[/IMAGE]Edward Flynn replied that he didn't 'use the word order lightly' in his testimony yesterday. According to him, Cermak 'behaved as if he had certain authority' in military, police and civilian matters in that area and as if he could influence the deployment of military and police troops. Flynn agreed with the defense counsel that Cermak 'was cordial and positive' towards the UN despite the fact that the international representatives who attended meetings with Cermak 'were often frustrated with the poor security situation in the field'
Edward Flynn will be cross-examined tomorrow by the defense teams of Ante Gotovina and Mladen Markac.