Home
HARADINAJ JUDGMENT TO BE DELIVERED ON 3 APRIL 2008
The prosecution called for 25 years in prison for Ramush Haradinaj, Idriz Balaj and Lahi Brahimaj, former KLA commanders. The defense called for their acquittal claiming that their responsibility for crimes against Albanian, Serbian and Roma civilians in 1998 hasn't been proved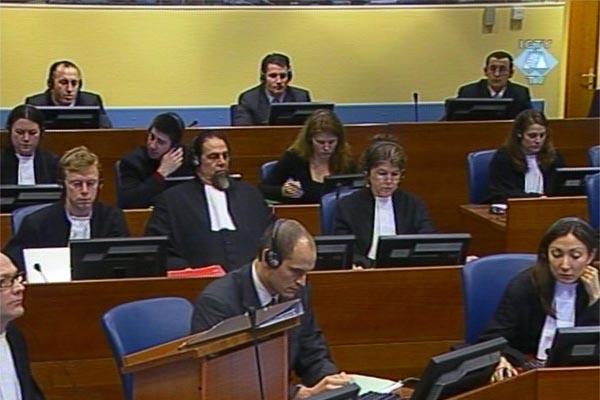 Ramush Haradinaj, Idriz Balaj i Lahi Brahimaj u sudnici Tribunala zadnjeg dana suđenja
The judgment in the case of Ramush Haradinaj, Idriz Balaj and Lahi Brahimaj will be delivered on Thursday, 3 April 2008 at 4 p.m, it was announced at the Tribunal in The Hague today.
The trial of former KLA commanders indicted for the crimes against Albanian, Serbian and Roma civilians in the summer of 1998 in Dukagjin, a part of Kosovo, opened on 5 March 2007. It came to an abrupt end on 30 November 2007 when the defense announced it would not present its case at all, because it believes the prosecution failed to prove any of the charges.
In its closing statement delivered from 21 to 23 January 2008, the prosecution stated that Haradinaj, Balaj and Brahimaj participated 'with great enthusiasm' in the joint criminal enterprise which resulted in the killing of at least 40 persons. One reason was their ethnic background, Serbian or Roma; the other was their political orientation, as Albanians were murdered because of their alleged collaboration with the Serbs. Convinced that it managed to prove beyond reasonable doubt the personal involvement of the tree accused in the killing and torture of civilians, the prosecution called the Trial Chamber to convict them of crimes against humanity and violations of laws and customs of war and to sentence each of them to 25 years in prison.
The defense of the three accused stated in their closing arguments that the prosecution failed to prove any of the thirty-seven counts in the indictment beyond reasonable doubt and asked that Haradinaj, Balaj and Brahimaj be acquitted.
The Trial Chamber that will deliver its judgment to former KLA commanders on Thursday consists of Dutch judge Orie, presiding, Austrian judge Hopfel and judge Stole from Norway.