Home
REGULATING THE IRREGULARS
Military expert testifying for the prosecution at the trial of Vojislav Seselj described the origins and development of the volunteer units drafted by the accused in 1991 from the independent irregulars to the moment they became a part of the JNA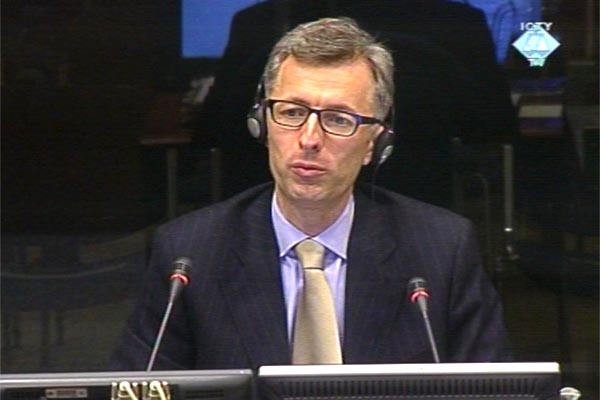 Reynaud Theunens, witness in the Seselj trial
After testifying at the trials of Slobodan Milosevic, Milan Martic and the Vukovar Three, Reynaud Theunens, prosecution military expert, began his evidence today at the trial of Vojislav Seselj. His expert report, he said, focused on the role of the Serbian Radical Party (SRS) volunteers in the wars in Croatia and BH, the relationship of the accused with the volunteers and the integration of volunteer units into the JNA structure. The report also deals with the role of the SRS war staff in the recruitment, training, arming and funding of the volunteers.
In drafting his report, Theunens relied on various sources: SFRY legislation, military documents from the JNA and VRS and public-access documents such as the SRS magazine Greater Serbia, the memoirs of Veljko Kadijevic, former JNA Chief of General Staff, and Borisav Jovic, member of the SFRY presidency. He focused in particular on evaluating the authenticity and credibility of documents, Theunens clarified.
According to Theunens, in the beginning the volunteer units – including the so-called 'Seselj's troops' – acted independently from the regular armed forces, but with tacit approval from the Serbian authorities. In normal circumstances, their involvement would have been illegal. The Constitution and the Law on National Defense specify that the 'volunteers' may be used 'to top up manning levels' in the armed forces in a state of emergency, state of war or an imminent threat of war, declared by the 'rump' SFRY presidency on 3 October 1991. By that time, the volunteer units had already been active in Croatia on a rather large scale. The Presidency did not order the deployment of volunteers before 10 December 1991. This document, Theunens noted, is the first legal document mentioning the 'volunteer formations' instead of 'volunteers used to top up the manning levels' in the armed forces.
When the prosecutor asked how the Serbian authorities treated the volunteer formations recruited by political parties, Theunens replied that 'they had at least been permitted to exist'. Some of them were under investigation or were prevented from operating, such as the Serbian Volunteer Guard, founded by the Serbian Renewal Movement, Theunens clarified. But the volunteer groups of the Serbian Radical Party cooperated well with the JNA and with the Serbian Defense Ministry and Ministry of the Interior. Both ministries helped them, arming, training and equipping those units and finally dispatching them to the combat zones.
Reynaud Theunens's evidence continues next Tuesday.