Home
PROOF "HANGING BY A THREAD"
The defense of the seven accused Bosnian Serb military and police officers contests the testimony of Mihajlo Galic, who said that he had replaced Drago Nikolic at the forward command post near Zvornik on 13 July 1995. That night, Nikolic had to make preparations for the "reception" of an enormous number of captured Muslims. Nikolic's attorney claims that he has five witnesses who will confirm that Galic was there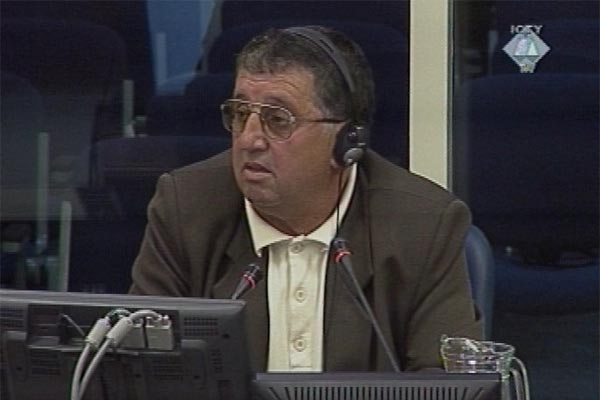 Mihajlo Galic, witness in the trial of the former military and police officials charged with the Srebrenica genocide
The defense counsel of the seven Bosnian Serb military and police officers charged with crimes committed in Srebrenica and Zepa contest the evidence given by prosecution witness Mihajlo Galic. Galic, former assistant for personnel in the Zvornik Brigade Staff said that he had been on duty at the forward command post (IKM) in Kitovnice near Zvornik on 13, 14 and 15 July 1995. The defense argues that the witness made his entries in the duty officer log book "as he sat" in the office of the Zvornik Brigade headquarters.
In his examination-in chief Galic confirmed the claims written in Dragan Obrenovic's Statement of Facts where he said that Drago Nikolic had telephoned him in the evening of 13 July asking him to send a replacement to the forward command post as he had to go to Zvornik urgently to make preparations for the reception of "an enormous number of captured Muslims". According to Obrenovic, Nikolic was given this task by the accused Vujadin Popovic, the Drina Corps security chief. Obrenovic pleaded guilty to the crimes in Srebrenica and was sentenced to 17 years in prison.
The defense contests Galic's evidence that he had replaced Nikolic at the IKM. He was never there, they say, alleging that he made his entries in the duty officer log book at a later time. The original log book was presented to the witness. The key page, containing the notes written on 13 July, warned the prosecutor, hangs by a thread and there is a danger it will soon fall off.
Stephane Bourgon, Nikolic's defense counsel, gave the names of five men willing to testify that they had not seen him at the IKM on the critical days and that Drago Nikolic was there until the morning of 14 July. Their identity remains unknown as this was done in closed session.
The witness did not budge, dismissing the possibility that the duty log book could be taken away from the IKM as the defense alleged.
The trial went on with the evidence of another member of the BH Army Surveillance Service. He testified with protective measures. In his short testimony, he recognized his handwriting in the transcripts of the conversation recorded on 28 October 1995. In the intercept, Manojlo Milovanovic, former VRS Chief of Main Staff enquired about the accused Radivoje Miletic.
The trial continues on Tuesday, 1 May 2007.