Home
SESELJ 'ADVOCATED AND JUSTIFIED VIOLENCE'
US sociologist Anthony Oberschall, the first prosecution witness at the trial of the Serbian Radical Party leader, analyzes the contents of the 'xenophobic nationalist' discourse Seselj used to 'advocate and justify the violence of Serbs against non-Serbs'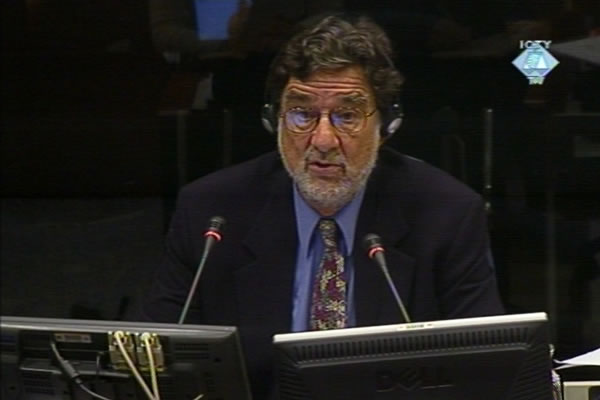 Anthony Oberschall, witness in the Seselj trial
The prosecution opened its case today at the trial of Vojislav Seselj, for crimes against humanity in Croatia, BH and Vojvodina, with its first witness, US sociologist Anthony Oberschall. He authored the report on how the Serbian Radical Party leader used his nationalist propaganda to 'advocate and justify the violence of Serbs against the non-Serbs'.
Analyzing the contents of more than 400 Seselj's texts, speeches, radio and TV appearances and newspaper interviews from 1990 to 1994, Oberschall found that he continuously repeats same message: the Serbian population is victimized and facing threats. According to Oberschall, Seselj used this message to emphasize the 'nationalist crisis' frame in inter-ethnic relations and to 'morally justify collective violence'.
Seselj's discourse of 'xenophobic nationalism', the witness described, typically begins with the 'glorification of Serbs' as 'a great nation' that was, in the course of its history, often a victim of external and internal enemies, suffering heinous injustice and facing 'threats' today. Seselj signaled that in most cases the source of 'foreign threat' were the West and Western powers, followed by Europe and the European Union, and by the Vatican, Hungary, Turkey, Albania and other unspecified foreign sources. The sources of 'internal threats' were even more diverse: first, those were other ethnic or religious groups – Croats, Slovenes, Kosovo Albanians and Muslim fundamentalists, then the Communist regime, Serbian communist leaders, unpatriotic Serbian media, various traitors of the Serbian nation and a number of political leaders that Seselj had differences with at various points in time.
Oberschall went on to say that, according to Seselj, the extreme danger Serbs faced justified their resorting to extreme measures to protect themselves. Seselj saw this violence as justified because it was a matter of self-defense, a response to the violence initiated by others. Seselj denies that it was directed against civilians, but sees civil victims as unavoidable and justified because of the extreme danger Serbs face.
According to Oberschall, Seselj's discourse of 'xenophobic nationalism' is characterized by the dismissal of any compromise. Minorities in Serbia, or in 'Serbian territories', defined by the famous Karlobag-Ogulin-Karlovac-Virovitica line, are expected to be 'absolutely loyal' and 'totally subordinated' to the Serbian majority. Those who refused to accept this fact could 'pack and leave Serbia'.
Prosecutor Christine Dahl substantiated Oberschall's claims with the appropriate video clips showing Seselj's public speeches, TV appearances and quotes from his newspaper interviews.
The accused Seselj will cross-examine the US sociologist tomorrow.