Home
DJORDJEVIC TO DEFEND DJORDJEVIC
The defense of Vlasitimir Djordjevic will be taken over by two Belgrade attorneys, Dragoljub Djordjevic as the lead counsel and Veljko Djurdjic as his co-counsel. Trial of the accused will 'not begin before next fall'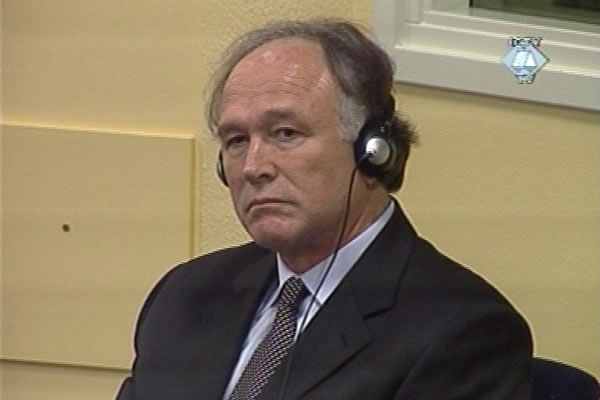 Vlastimir Djordjevic in the courtroom
The trial of Vlastimir Djordjevic could start in the fall of 2008 at the earliest. Frederik Harhoff, the pretrial judge in this case, made this estimate at the status conference today in the case against former assistant to the minister of the interior ministry and head of the Public Security Department in Serbia.
Djordjevic's legal counsel, Belgrade attorneys Dragoljub Djordjevic as the lead counsel and Veljko Djurdjic as his co-counsel appeared for the first time in the courtroom. Thomas Hannis, prosecutor from the USA, is the trial attorney in this case.
Djordjevic's defense, it was stated at the hearing, already filed motions challenging the jurisdiction of the Tribunal and alleging defects in the form of the indictment. According to Judge Harhoff, the Chamber will deal with the issue of the jurisdiction soon. As for the indictment and its possible amendments, this could be considered only after the Trial Chamber has delivered the judgment in the case against Milan Milutinovic and other five former military and police officials from Serbia. Harhoff indicated that it could happen in late 2008.
As the hearing drew to a close, Judge Harhoff asked the accused Djordjevic about his health and any complaints about his stay in the Tribunal's Detention Unit. Djordjevic answered that he was 'fine' and that he had no complaints about the accommodation which was, as he remarked, the same for all detainees.
In July 2007 Djordjevic pleaded not guilty to all of the counts in the indictment charging him with the expulsion, killing and persecution of Albanian civilians in Kosovo in the first half of 1999.