Home
CARLA DEL PONTE'S APPEAL TO ANGELA MERKEL
In a letter to Germany's Chancellor, ICTY Chief Prosecutor notes that the judgment of the International Court of Justice "must be supported and enforced". "For the sake of justice and the rule of law", she appeals to the European Union to remain firm in refusing to renew negotiations with Serbia until Mladic is arrested and brought to The Hague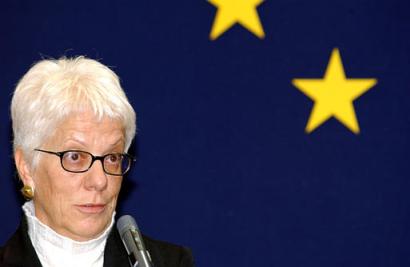 Carla del Ponte in the EU
As soon as the International Court of Justice delivered its judgment, ICTY Chief Prosecutor Carla Del Ponte wrote a letter to German Chancellor Angela Merkel. Germany is presiding the European Union now. Listing the most salient findings of the ICJ, Del Ponte reminds Merkel that Serbia is responsible for the failure to prevent and punish the crime of genocide and in fact continues to breach the Genocide Convention by failing to surrender the accused for the genocide, primarily Ratko Mladic and Radovan Karadzic, to the Tribunal. In her letter Del Ponte notes that the judgment explicitly orders Serbia to promptly take effective steps to punish the perpetrators of genocide, to surrender those indicted for genocide and other war crimes and to cooperate fully with the Tribunal.
Carla Del Ponte claims she has "strong evidence" that Karadzic and Mladic are "under protection" in Serbia. Three other fugitives from international justice: Tolimir, Zupljanin and Hadzic, still "reside safe" in Serbia.
Del Ponte calls on the European Union to continue with its "strong pressure and clear messages", as the only way to force Serbia to cooperate. She emphasized that the ICJ judgment should be "supported and enforced" and that "it is time for Serbia to finally comply with its international obligation to arrest and surrender these fugitives".
"For the sake of justice and rule of law", Del Ponte appeals to Merkel, it is "of utmost importance that the European Union stands firm by its view that the negotiations on the Stabilization and Association Agreement can continue only after Serbia has arrested and surrendered Ratko Mladic to the Tribunal."
Finally, Carla Del Ponte asked Angela Merkel to pass on her letter to presidents and prime ministers of the other 26 members of the European Union.