Home
BH VS. SaM: JUDGMENT DUE ON 26 FEBRUARY 2007
On Monday 26 February 2007, the International Court of Justice will deliver its judgment on whether the former FRY or the former SaM is responsible for genocide in Bosnia Herzegovina. The judgment comes fourteen years after the legal suit was filed and a year after the start of hearings on the merits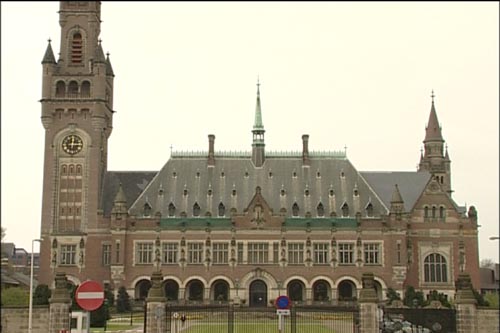 The International Court of Justice in The Hague
On Monday, 26 February 2007 at ten a.m, the International Court of Justice will deliver the judgment in the Bosnia Herzegovina vs. Serbia and Montenegro case. This was officially announced in The Hague. After the judgment is delivered, Rosalyn Higgins, the president of the highest world court, will hold a special press conference.
The legal suit was filed in March 1993 by Bosnia Herzegovina, demanding that the then Federal Republic of Yugoslavia be found responsible for the breach of the Convention on the Prevention and Punishment of the Crime of Genocide. The oral hearing on issues of jurisdiction and the merits of the case was held in the spring of 2006. The court was in session from late February to early May. The hearing ended with the demand that the SaM be found responsible for the genocide in Bosnia Herzegovina committed "through its agents and entities", or alternatively for the complicity or aiding and abetting genocide committed by individuals, groups and entities. The highest world court was asked to state that Belgrade was still in breach of the Genocide Convention because it failed to surrender to the Tribunal persons indicted for genocide, such as Radovan Karadzic and Ratko Mladic.
If Serbia and Montenegro are found to be responsible for genocide, the International Court of Justice was also asked, they had to be bound to compensate Bosnia and Herzegovina and its citizens to the damage and loss caused by the unlawful acts. A proposal was made that the parties be given a period of one year after the judgment to reach an agreement on "the nature, form and amount of the compensation". If the parties fail to reach an agreement, the Court is to rule on that in a special procedure.
At the hearings last year, the SaM representatives were challenging the jurisdiction of the International Court of Justice, denying any links between the official Belgrade and forces that had committed the crimes in BH between 1992 and 1994. They also claimed that the crimes in BH had been of a scale large enough to constitute genocide.