Home
ZELENOVIC'S GUILTY PLEA TO BE CLARIFIED
Prosecution and defense were given until tomorrow to clarify the 'confusing' parts of the Dragan Zelenovic's plea agreement. Under the agreement, Zelenovic pleads guilty to the rape and torture of two Bosniak women in Foca in 1992 and to complicity and aiding and abetting the rape of a number of other women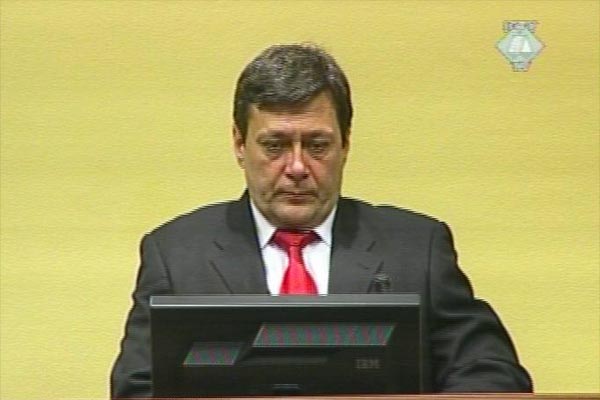 Dragan Zelenovic in the courtroom
The Trial Chamber today rejected the plea agreement reached by the accused Dragan Zelenovic and the Office of the Prosecutor. Under the agreement Zelenovic pleaded guilty to multiple rapes and torture of Bosniak women in Foca. It was reached on 14 December 2006 and remained confidential until today. The accused pleaded guilty to seven counts and the prosecution dropped the remaining seven counts of the indictment. The parties failed to reach an agreement on the sentence: the prosecution asked for 10 to 15 years in prison, while the defense suggested a sentence of 7 to 10 years.
However, after a two-hour hearing today, the Chamber ordered both parties to meet in the afternoon to clarify the terms of the agreement the judges described as 'confusing and messy'. It is unclear whether Zelenovic has pleaded guilty to the rape of all women whose pseudonyms are listed in the paragraphs of the indictment or whether he himself committed the rapes in some cases while being a co-perpetrator or accomplice in other cases.
The defense counsel insists Zelenovic has pleaded guilty to the rape of just two girls. One of them – identified as FWS 87 – was only 15 years old at the time. She was raped, as was the another victim, FWS 75, in various locations in Foca: in the Serb army barracks in Buk Bijela, in the Foca high school, in the Partizan sports hall and in an apartment close to a sea food restaurant.
Since the former police officer from Foca has pleaded guilty to the rape of only two women and the indictment alleges the rape of several other victims, Presiding Judge Alphons Orie said: 'Let me put it quite bluntly: To what extent is the prosecution involved in an exercise in which half of the victims are just de-victimized for unknown reasons?'. The Chamber ordered the prosecution to draft a new indictment by tomorrow. The new version will clearly specify the cases where Zelenovic was a co-perpetrator and those where he was aiding and abetting the rape. The prosecution was also ordered to designate the victims who had been raped by other soldiers or police officers in the presence of Zelenovic and who were not identified by him as X or Y, rather than using pseudonyms, as it is done in the current indictment.
If the plea agreement is 'put on a more solid foundation' by tomorrow and if the Chamber finds it acceptable, Zelenovic will be given an opportunity to formally enter a plea on the counts in the indictment against him. If not, 'the Chamber will not be able to accept Zelenovic's guilty plea' Judge Orie stressed.