Home
FROM VUKOVAR HOSPITAL TO PRISON IN SREMSKA MITROVICA
Dr. Juraj Njavro concludes his examination-in-chief with a recounting of his journey from Vukovar to Zagreb via prison in Sremska Mitrovica, at the trial of the former JNA officers charged with the massacre at Ovcara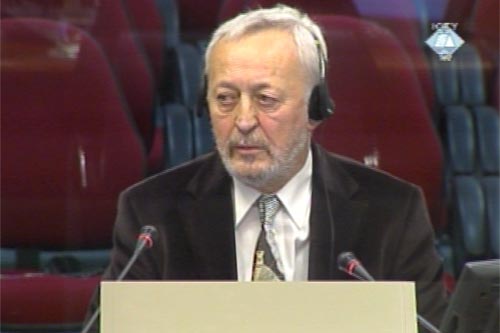 Juraj Njavro, witness in the trial of the 'Vukovar three'
Dr. Juraj Njavro, surgeon from the Vukovar hospital, recounted how after the soldiers had "evacuated" the Vukovar hospital he had been taken first to the JNA barracks and then to prison in Sremska Mitrovica via Sid and Belgrade, as he testified at the trial of Mile Mrksic, Veselin Sljivancanin and Miroslav Radic.
Dr. Vesna Bosanac, director of the Vukovar hospital and male nurse Ante Aric were taken to Sremska Mitrovica together with Dr. Njavro. Aric had already gone through the JNA interrogation the day before and told the witness the soldiers had wanted to know whether he had been delivering, hiding or using weapons, whom he had killed and whose orders he had been receiving. Unhappy with his answers, the soldiers made Aric, who had been tied to a chair, drink a liter of wine, rendering him completely senseless. Aric told Njavro, as he now claims, that Major Sljivancanin attended the interrogation.
When they arrived in Sremska Mitrovica, the witness and Dr. Bosanac saw the beating of their colleague Aric. As Dr. Njavro described, he was beaten "like a beast, so badly that they wondered how he survived".
The witness remained in the Sremska Mitrovica prison for the next 18 days. He says he was often questioned, that the guards threatened him and hurt him from time to time.
This was not the last he saw of the JNA. Dr. Njavro was indicted before the Superior Military Court in Belgrade and charged with organizing armed rebellion, transplantation and sale of human organs, all on the basis of statements allegedly made by his colleagues from the Vukovar hospital, Dr. Mladen Ivankovic and Dr. Tomislav Djuranac. The trial, the witness said, never ended and the doctors who allegedly accused him never showed up in courtroom to confirm their statements.
In the examination-in-chief, Dr. Njavro gave his judgment of the two colleagues of his: Dr. Ivankovic was a good surgeon but was "an appointee of the Communist Party" and Dr. Tomislav Djuranac was an average physician who "was fond of a tipple".
The cross-examination of Dr. Juraj Njavro started this afternoon and will continue tomorrow. The next witness to take the stand is Ambassador Herbert Okun, as announced today. He was in Vukovar on 19 November 1991, together with Cyrus Vance, special envoy of the UN Secretary-General, attempting in vain to reach the hospital. Ambassador Okun has already testified about his visit to Vukovar at the trial of Slobodan Milosevic, who is charged with the massacre at Ovcara, among other things.