Home
LJUBICIC AND RAJIC OPPOSED TO BH TRIAL
At the joint hearing on the referral of the Pasko Ljubicic case and Ivica Rajic case to BH courts, the defense counsel expressed their reservations about the degree of protection of the rights and interests of the accused in Bosnia and Herzegovina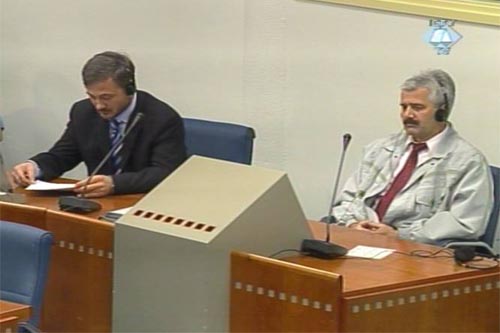 Pasko Ljubicic and Ivica Rajic in the courtroom
The defense counsel of Pasko Ljubicic and Ivica Rajic are opposed to the referral of their clients' cases to BH courts because it is possible "the rights and interests of their clients might not be protected properly", as Ljubicic's lawyer Tomislav Jonjic said today at a hearing before the Referral Bench.
Jonjic, who proposes that Ljubicic be tried in Croatia, notes among other things that the Croatian judicial system is ready to proceed in the case because an investigation into the crimes in Ahmici had already been conducted there before Ljubicic surrendered to the Tribunal. The former HVO military police commander in Central Bosnia is charged with the killings in this village. The defense is furthermore concerned about the reports about the threats to Croat and Serb convicts in the Zenica Correctional and Penitentiary Facility, where Ljubicic would serve his sentence if convicted.
Milana Popadic, representative of the BH Justice Ministry, addressed the court via video link from Sarajevo, confirming there were "some problems" in the Zenica prison. She noted, however, that there exists the State Court Detention Unit which "meets international standards" and that the state prison should be constructed by the end of next year.
The judges wanted her to find out whether a report was made by the federal Justice Ministry, whose representatives visited the Zenica prison, and if yes, to submit it to them in order for the judges to get as unbiased information about the situation in the Zenica prison as possible.
Rajic's lawyer Doris Kosta noted only that all the issues that she had raised in her motion were addressed in the discussion among Jonjic, the judges and the BH representative. She is technically Rajic's co-counsel, but is representing Rajic on her own, because the accused in May launched the proceedings to dismiss his lead counsel, Zeljko Olujic. Rajic, former commander of the HVO operative group in Kiseljak, is charged with the crimes in Vares and Stupni Do.
The prosecutors in July applied for the referral of the two cases to Bosnia and Herzegovina as the two accused are of middle-rank. Such referrals are part of the Tribunal's strategy to complete all its first-instance trials by the end of 2008, as ordered by the UN Security Council.