Home
GENERAL MILOSEVIC PLEADS NOT GUILTY
Former commander of the VRS Sarajevo-Romanija Corps pleads not guilty to the "second round" of the shelling and sniping campaign against civilians in Sarajevo between August 1994 and November 1995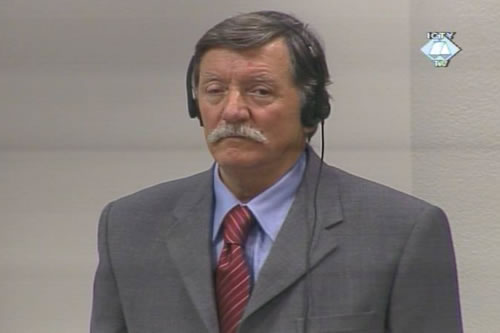 Dragomir Milosevic in the courtroom
General Dragomir Milosevic, former commander of the VRS Sarajevo-Romanija Corps, pleaded not guilty today to all seven counts of the indictment charging him with terrorizing civilian population, with shelling of Sarajevo and with the sniping campaign against its residents between August 1994 and November 1995.
General Milosevic is charged with crimes against humanity and violations of laws and customs of war, both on the basis of individual and command responsibility: for having planned, ordered or aided and abetted the crimes and for having failed to prevent or punish his subordinates who were the perpetrators of the crimes described in the indictment.
After he surrendered to the Tribunal last week, General Milosevic was brought this morning before Dutch judge Alphonsus Orie who was the presiding judge of the Tribunal's chamber that heard the first trial for war crimes in Sarajevo. At the conclusion of that trial, General Stanislav Galic – who commanded the Sarajevo-Romanija Corps between September 1992 and August 1994 – was sentenced to 20 years in prison.
General Milosevic was represented today by Canadian lawyer Stephan Bourgon as his temporary defense counsel. Bourgon is currently working as co-counsel in the defense team of the former commander of the BH Army 3rd Corps, General Enver Hadzihasanovic. After conferring with Milosevic this morning, Bourgon notified the judge that the accused had read and understood the indictment, that he waived his right to have the indictment read out to him in court and that he was ready to enter his plea today. Milosevic did not have any complaint about the conditions of his detention or about his health.