Home
BEQAJ IN TRIBUNAL DETENTION
Kosovo Albanian is accused of intimidating prosecution witnesses in the case against three former KLA members. His initial appearance scheduled for early next week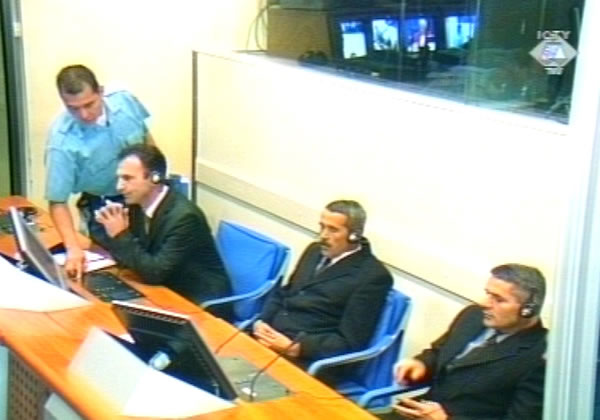 "Kosovo three" in the courtroom
Beqe Beqaj, a Kosovo Albanian accused of intimidating prosecution witnesses in the case of three former KLA members, was transferred yesterday to the UN Detention Unit. Early next week, he will appear before a judge in order to enter his plea to the three counts in the indictment charging him with contempt of court.
At the last two status conferences in the case of Fatmir Limaj, Isak Misliu and Hajradin Bala—all accused of crimes against Serb and Albanian civilians detained in the Lapusnik camp near Glogovac in the first half of 1998—prosecutors expressed their concern about attempts to influence their witnesses through pressure and threats.
The prosecution investigated the matter, and judging by the indictment, investigators managed to get evidence that Beqe Beqaj--a relative of the accused Isak Musliu--tried to influence two potential prosecution witnesses--Rexha Rexhaj and Rizah Rexhaj--through various means: threats, blackmail, attempted bribes.
Intimidation is one of the most serious forms of contempt of court; in accordance with Tribunal Rules, a punishment of up to seven years in prison and a fine of up to 100,000 euros can be imposed.