Home
MILAN MARTIC COMPLAINS OF DISCRIMINATION
While on one hand he is charged by the prosecution as a former minister and president of the Republic of Serbian Krajina, on the other, the Registry is treating him and his defense team as if he were a "reserve police officer," complains Martic. He also protests the "failure" of prosecutors "to indict" Stipe Mesic and other Croatian officials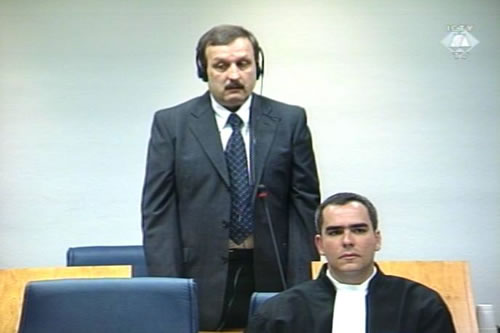 Milan Martic in the courtroom
Milan Martic, former president of the former Republic of Serbian Krajina, complained at his status conference today that he was "doubly discriminated against."
On the one hand, Martic said, prosecutors have charged him as a former Minister of the Interior and president of the RSK with crimes committed by forces under his command in Croatia and Bosnia and Herzegovina. On the other, the Registry, which approves funds for the accused's defense, is treating him as if he had been "a reserve police officer."
The second form of discrimination Martic complains about is that he is in the UN Detention Unit while those who "expelled his people from Croatia and killed thousands of people… continue to hold high offices." Martic complained today that Chief Prosecutor Carla del Ponte "enthuses about cooperation with Stipe Mesic and other Croatian officials" instead of "charging them with the crimes committed in the Miljevac Plateau, Maslenica or Operation Flash which they ordered" by the end of December--the deadline for the completion of her investigations.
Pre-trial judge Martin Canivell replied he was not interested in Martic's ideas and views as to who should be indicted, and that he would not tolerate any accusations of discrimination on the part of the prosecution without proof to support such claims. As for the financing of his defense by the Registry, the judge said that up until March 2004, Martic's defense counsel had been paid a total of 277,000 US dollars, which, he said, is an "impressive sum."
Martic's defense counsel, Belgrade lawyer Predrag Milovancevic, noted that the first defense team had spent some of that sum. It was on the case from May until December 2002. Confirming that $277,000 was the correct amount, Milovancevic explained that it covered the work of four lawyers over a period of 30 months, which comes to only $9,000 per lawyer per month.
The problem of funding Martic's defense is currently before the Appeals Chamber of the Tribunal, and Milovancevic has indicated he intends to inform the governments of Serbia-Montenegro and the Netherlands, as well as the European Bar Association, since, he says, this is tantamount to "denying his client the right to a defense."
Although at the previous status conference it was thought that Milan Martic's trial might begin in November 2004, there was no mention of that date today. The next status conference has been scheduled for January 2005, and the Martic trial will, it seems, have to wait for the arrival of Martic's former colleague Goran Hadzic, charged with participation in the same joint criminal enterprise.