Home
FUGITIVES IN THE HAGUE
The English version of the documentary about Karadzic and Mladic, produced by the SENSE Agency, premiered at the Congress Centre in The Hague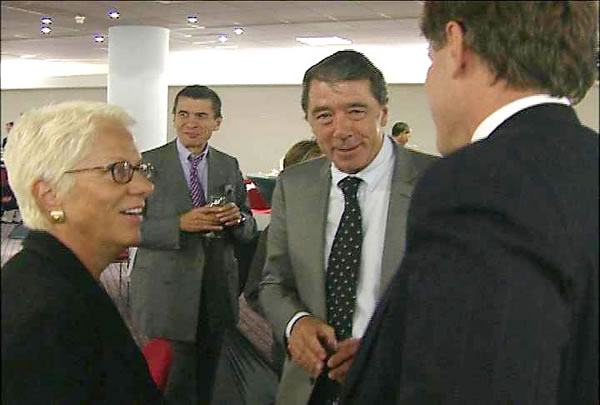 Carla Del Ponte, Geoffrey Nice, Mirko Klarin and Mark Harmon after the screening of the film 'Fugitives' in The Hague
The English version of the Fugitives, the documentary produced by the SENSE agency – that was premiered in Sarajevo and subsequently broadcast by many TV channels in the region - was shown in The Hague yesterday. The showing at the Dutch Congress Centre was attended by high-ranking officials from the Tribunal, including President Theodor Meron and Chief Prosecutor Carla Del Ponte, and by representatives of the diplomatic corps and numerous Western journalists.
After the showing, there were comments that the story of the "two most wanted men accused by the Tribunal," as Ian Traynor, a reporter for the London The Guardian noted, was dealt with in an impressive and provocative manner. "For me as a journalist with a long history of reporting from the Balkans, the most interesting parts of the film are those filmed in Bosnia, particularly in Republika Srpska and the views shown in the film to the effect that the two fugitives – Karadzic in particular, but Mladic, too – hold Republika Srpska hostage – in international isolation, undeveloped economically, politically and in every other way," Traynor said.
Theatrologist Dragan Klaic notes that the "film's strong suit" is the presentation of different views of RS politicians. "They don't all sing the same tune, although all of them are trying, in their own way, to make some distance between themselves and Karadzic and Mladic, but they all have different arguments and interpretations of what failure to arrest Karadzic and Mladic means for Republika Srpska," Klaic says, adding that in doing so, the "film contradicts the simplified picture of the state of affairs and mood in the Republika Srpska."
The issue of the political will to arrest Karadzic and Mladic was dealt with in a provocative way that invites debate, said Richard Dicker from the Human Rights Watch organization. "I think that they have not been arrested because of the lack of political will," Dicker said, adding that it was shocking that "almost ten years after Srebrenica, these people are still at large, not in detention or being tried before the Tribunal for the former Yugoslavia."
Photos