Home
PROSECUTION RESTS ITS CASE
At the trial of the former BH Army commanders in Central Bosnia, the last prosecution witness, Vinko Zrno, testified about severe beatings and inhumane conditions in which Croatian prisoners were held in Bugojno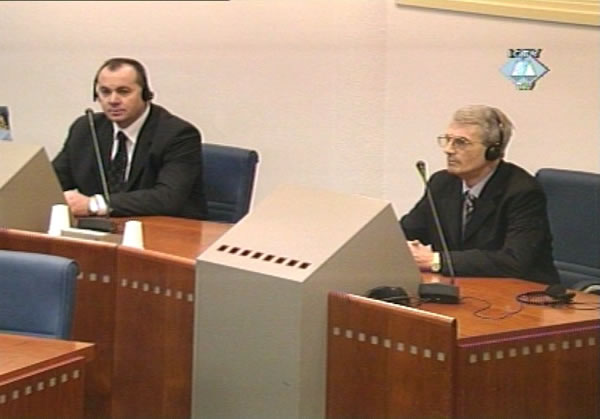 Enver Hadzihasanovic i Amir Kubura in the courtroom
The last prosecution witness at the trial of the former BH Army commanders in Central Bosnia testified about severe beatings suffered by Croatian prisoners and inhumane conditions in which persons captured by the BH Army lived in Bugojno.
Vinko Zrno, who was a guard in a HVO military hospital in 1993, surrendered to the BH Army with the remnants of his brigade a few days after the conflict between Bosniaks and Croats in Bugojno broke out, in July 1993. He went through several make-shift prisons, in which prisoners were called out and severely beaten. The witness himself was badly beaten as he was taken to forced labour – grave digging – together with four other prisoners. His relative died as a result of the beating.
From August 1993 until March 1994, Zrno was held at the Iskra stadium in Bugojno, together with about 300 other detainees. The sanitary conditions were extremely bad, there was little food and prisoners were taken out to be beaten. The situation in stadium did not improve until 1994, the witness stated.
This witness was the last on the witness list of the prosecution at the trial of General Enver Hadzihasanovic, who is charged as the former BH Army 3rd Corps commander, inter alia, of the crimes committed in Bugojno. He is tried together with the former commander of the 7th Muslim Brigade, Amir Kubura.
Two more hearings will be held in this case this week and the next when the prosecution case will be formally concluded. The defence case should begin in October.